Southern California Consolidator Services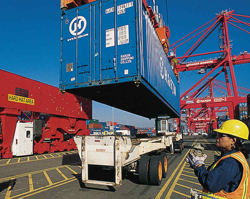 Weber's Southern California consolidator services enable companies to import goods from multiple sources and consolidate them at a container freight station for final distribution. For export freight, Weber can receive goods on trailers, flatbeds or rail cars and reload them into containers and transfer to the port on your schedule.
For a large liquor company, Weber picks up ocean containers in Long Beach, California and transports them to a Weber container freight station in Southern California for deconsolidation, storage and final distribution.
Weber's Los Angeles consolidator services are part of a complete port services solution for importers and exporters that also includes drayage company services, West Coast warehousing and nationwide and West Coast transportation.
Advantages of Weber's West Coast Consolidator Services
Visibility from container to store shelf. Weber's easy-to-use web portal gives you a 24/7 window to your inventory, helping you make informed decisions.
One invoice, single point of contact. Simplify and streamline your logistics by integrating port services, warehousing and last mile delivery with Weber Logistics. Our blended rate for multiple services can reduce your total logistics costs.
Reduce retail chargebacks. Getting your imports to the U.S. is just the first step. Through our vendor compliance management solution, we prepare and ship your goods per the exact requirements of your retail customers to reduce retail chargebacks.
Need consolidator services from Southern California?
Contact us for a detailed discussion of your needs.