Consumer Goods Logistics Services on the West Coast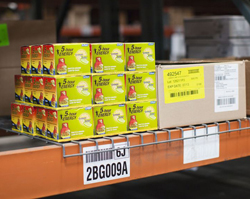 Dozens of consumer product companies trust Weber for accurate, on-time orders to their retail customers. Weber's West Coast warehousing locations provide rapid replenishment of retail and consumer orders. Our specialty is vendor compliance management – working with CPG companies to reduce retail chargebacks and maintain preferred vendor status. Read our Weber Insights paper: "How to Reduce Chargebacks in Your Vendor Compliance Program."
For a maker of thermal coolers, we do final assembly of the product in the warehouse, eliminating the need for an outside packager and reducing inventory levels and total distribution costs. Read California Innovations case study.
Advantages of Weber's CPG Logistics Services
Reduce retailer chargebacks. Full time compliance manager and excellent working relationship with contacts at retail delivery locations.
Gain flexibility. Expand and contract warehouse space as your business changes. Weber operates millions of square feet of West Coast 3PL warehousing space.
Get the attention you need. Don't get lost at a large-scale 3PL too busy to focus on you.
Reduce administrative time and costs. We are a one-source solution for import product distribution. For many consumer goods customers, we manage port pick up, de-consolidation, warehousing, and final delivery.
Cut freight costs with pool distribution. Linehaul products to the West Coast where Weber can break shipments down and manage last mile delivery to your west region customers.
Manage B2B and B2C fulfillment from the same distribution center. This allows you to minimize your inventory by replenishing all channels, including eCommerce fulfillment in California, from the same inventory pool.
Focus on Value-Added Services.
Weber can customize your product to the exact requirements of your retail customers. Product postponement and kitting services allow you to delay final product configuration until just prior to shipment.
Consumer Goods Logistics Expertise
Direct store deliveries or DC deliveries to Walmart, Target, Sears, and other major retailers
Promotion support, including fast ramp up for high-volume requirements
Deconsolidation of imports near Southern California ports
Inventory management with a variety of disciplines – date code, FIFO, LIFO, batch codes
Recall management
Full supply chain visibility for your import freight – from notification of container availability to final retail delivery
Need logistics services for consumer products?
Contact us for a detailed discussion of your CPG logistics requirements.