Intermodal Shipping for Imports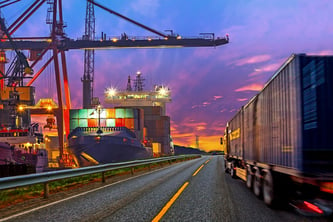 When you partner with a 3PL provider that operates at or near a port of entry, you have multiple options for your ocean freight. Weber can receive your container(s),
warehouse your products
, and return the container back to the ocean carrier. Or, you can skip the local warehouse and get right to the business of distribution with transloading and deconsolidation.

Weber transloading and deconsolidation
With transloading, Weber can receive your ocean container, process its contents, prepare products for rail or OTR transport, and ship to a destination within last-mile-delivery range of your customer(s). Your product is now staged for fast delivery to the end customer, whether it's a consumer or a retailer.
Sometimes, however, the contents of a single container need to go to multiple consignees. Enter deconsolidation. With this method, Weber processes your container and segregates your product by purchase order or SKU. These separate shipments are then loaded onto multiple truck trailers and/or intermodal containers for distribution to different locations.
Advantages of Weber intermodal shipping for imports
Speed order-to-delivery cycle: Weber's transloading services move imports quickly to your selling markets.
Start distribution from the port: Weber's facilities are located at or near the ports of Los Angeles, Long Beach, Oakland, and San Diego. This allows transloading and deconsolidation to be performed quickly, and enables fast turnaround of containers from Weber back to the port.
Integrate Services: Weber can handle all intermodal shipping services (e.g., drayage, rail transload, processing/inspection/segregation, and transportation). This eliminates time spent coordinating with other providers and reduces errors.
Enjoy full visibility: Weber's systems provide you with tracking and 24/7 visibility to your freight – allowing you to make real-time decisions.
Utilize on-site rail spurs: Several Weber distribution centers have rail spurs (

BNSF and Union Pacific) along with ample yard and door space.
Looking for intermodal shipping services in California?
From drayage to final delivery, consider Weber Logistics for all your California import logistics needs. Contact us today for details.