San Diego Warehouse, Trucking and Logistics Services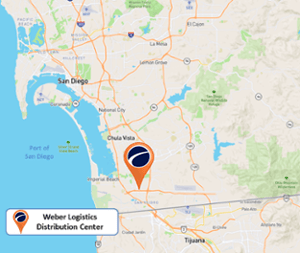 Weber Logistics' San Diego warehouse is located just 5 miles from the Mexico border and 15 minutes from downtown San Diego. The facility is within 2 blocks of interstate highway 905 from Otay Mesa on the Mexico border. Door to door travel to the border is about 10 minutes.
This AIB-certified, food-grade warehouse handles consumer goods as well as dry food and beverages. Our warehouse customers in San Diego also use Weber's trucking services to deliver products inbound to manufacturing plants or outbound to customers in the region.
Advantages of Weber's San Diego Logistics Services
Excellent Southern California warehouse location. Close to Mexico for cross border moves, easy on-off access to highways 5, 905, and 805.
Food-grade warehouse and logistics. Our warehouse in San Diego services multiple food and beverage logistics customers.
Trucking services. Some customers also use Weber's trucking services in San Diego. We offer both dry and refrigerated trucking for temperature-controlled deliveries.
Rail services. Our San Diego warehouse has six rail doors with access to double rail spurs.
Port services. Fast, reliable drayage services from the Port of San Diego. Weber can deliver direct to you or your customers, or return goods to our warehouse for final distribution.
Weber combines all services to deliver a single-source solution for 3PL logistics in San Diego. Our web portal gives you anywhere, anytime access to your inventory and shipment status.
San Diego Warehouse Facility Details
Looking for logistics services in San Diego?
Contact us today to discuss your logistics requirements.