Retail Distribution in California, Including LTL Freight Services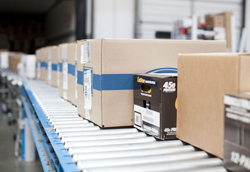 Grocery distribution is what we do. Weber works with your retail customers to set appointments and then delivers to DCs and stores within precise shipping windows to avoid chargebacks. Deliveries are done by Weber's uniformed drivers on Weber's fleet of late-model trucks. Unlike other California LTL trucking companies, Weber maintains our own assets for West Coast refrigerated trucking deliveries.
For one of the world's top confectionery brands, Weber does inside delivery to mall stores and kiosks. This specialized service requires lift gates, pallet jacks, and a strong familiarity with mall locations and how to get in and out quickly. Deliveries are done by uniformed drivers during off hours – before and after malls open and close.
Advantages of Weber's Retail Distribution Services
Become more agile. We can deliver same day if needed.
Leverage pool distribution. Linehaul your products to one of Weber's 17 West Coast 3PL distribution facilities and let us manage LTL services to your west region customers.
Meet delivery commitments. 99%+ on-time delivery. We have personal relationships with contacts at retail locations and work closely with them to coordinate appointments and hit delivery windows.
Deliver direct to store. Uniformed drivers with an average tenure of 9 years put a professional face on your final delivery.
Track and trace with ease. Log in to Weber's customer portal and track by PO, Pro #, BOL or other reference points. Or you can call your Weber customer service representative directly.
Looking for retail distribution or LTL freight services on the West Coast?
Contact us to discuss your LTL freight needs and retail distribution requirements on the West Coast. Spot quotes are available on request.