Kitting Services and Fulfillment in California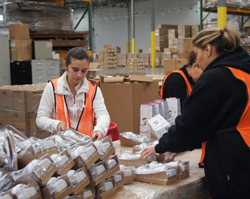 Your marketing department calls and asks if you can combine three products into one finished SKU – and have 1 million units completed and ready to ship to Walmart in two weeks! With Weber Logistics, you have the power to say "yes," to these kinds of requests, giving your company a decided competitive advantage. We specialize in value-added warehousing services on the West Coast, including high-volume kitting and assembly projects.
For a multi-brand consumer products company, Weber creates kits to support seasonal marketing programs. For instance, in the summer season we combine small dorm room appliances into one College Combo kit for back to school campaigns.

Advantages of Weber Kitting Services in California and on the West Coast
Quickly respond to demands from retailers and internal customers. Weber industrial engineers and warehouse operators regularly design efficient build processes for kitting and other product completion projects, including SOP development, training, and quality assurance.
Maintain visibility and control. Our advanced 3PL systems for logistics management track inventory at the component and finished product level throughout the kitting process.
Economically manage volume surges. Weber operates West Coast warehousing facilities throughout the region. The close proximity of resources allows us to "borrow" trained staff to address short-term volume surges with specific customers, avoiding overtime and minimizing the need for outside labor.
Examples of Kitting and Assembly Services
Club packs
Sample packs
Holiday baskets
Bagging
Literature fulfillment
Point of purchase displays
Looking for a kitting and fulfillment company in California?
Contact Weber today for a detailed discussion of your requirements.