Inventory and Product Postponement Services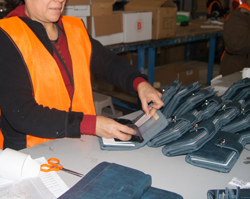 It used to be that companies manufactured each configuration of a product (sometimes hundreds or more variations), pushed all of them to the market, and hoped they would sell. No more. Today, companies are increasingly adopting a postponement strategy – delaying final product configuration until the very last moment. This allows them to reduce inventory and provide a more agile response to unpredictable product demand – essentially, to make more of what the market is buying.
If you are considering product postponement on the West Coast, go with experience. Weber Logistics can work with you to custom design a postponement strategy that makes sense.
For an organic food company, Weber stores bulk product in its raw state, then packages it into 1, 3, 5 and 10 pound bags based on customer demand.
For a large consumer product company, Weber runs an assembly line process that combines core component parts to create finished cooler bags. Read the case study on how the strategy cut costs more than $500,000.

Advantages of Inventory Postponement
Reduce inventory by storing only core product components that can be combined in the distribution center to create multiple SKUs.
Avoid unprofitable write-offs and clearance sales, which occur when you have too much of the wrong thing on retail shelves.
Reduce labor costs by moving final product assembly out of the high-cost manufacturing environment.
Give customers more choices, ultimately leading to more revenue and profit.
Product Postponement Services Must Include Exacting Quality Processes
Postponement strategies can drive huge supply chain savings, but not at the risk of product quality. You need a 3PL partner for product postponement, like Weber, that understands how quality is measured and achieved in a manufacturing environment. Our exacting processes for quality assurance provide you all the benefits of inventory postponement, while maintaining the highest product quality standards.
Need a partner for West Coast product postponement?
Contact Weber today for a detailed discussion of your needs.