West Coast and California 3PL Services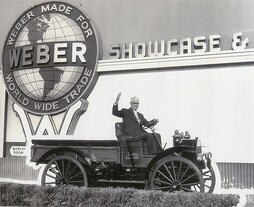 In logistics, as in most things, it's impossible to be great everywhere at everything. At Weber, our strength is our focus – flexible, scalable distribution solutions in California and the Western U.S.
No California 3PL – large or small, global or regional – can match Weber's history, market knowledge and logistics infrastructure in this region. We want and expect to be the best in the world at what we do. When it comes to logistics execution in California and the Western Region, we believe we are.
What Sets Us Apart?
Deep market understanding. Managing the flow of goods to and from western U.S. markets since 1924.
Temperature-controlled storage and delivery. We can move your goods from a climate-controlled Weber warehouse to refrigerated Weber trucks, while maintaining the integrity of your products throughout the distribution cycle.
Warehouse space and resources concentrated on the West Coast. Our corporate and facility resources are in close proximity, ready to manage your volume spikes and special projects at a moment's notice.
Vendor compliance. We specialize in helping small to mid-sized consumer product companies reduce chargebacks from big box retailers.
Single-source logistics solution for importers. Includes drayage services, warehousing, and final delivery to retailers.
How We Think
Logistics Solutions. Many 3PLs want to plug you into an existing solution they claim is "proven." We believe the right solution for you is not the same as your competitor's approach. So we start with a clean slate. We don't design a solution FOR you, we design it WITH you, working in lockstep to jointly solve your specific problem.
Logistics Operations. We expect to get it right every time. When we don't, we want to know why. Driving this operational rigor is a key part of our strategy. Superior operations require a company-wide belief that every pick, every shipment, every delivery is an opportunity to do great work. Fostering this attitude is also part of our quality strategy. It impacts the kinds of people we hire, and how we train and compensate them.
Value. Value comes in all shapes and sizes. It can mean dollars and cents, reduced time, innovative thinking…it's our job to understand what value means to you. Once we're aligned, Weber builds solutions to deliver that value, from the most basic to the most advanced.
Customer Satisfaction. If you need to tell us you're unhappy, our system has broken down. Weber's business is built around staying close to you, identifying concerns early and addressing them immediately.
Want to learn more about our California 3PL freight and warehousing services?
Call 855-GO-WEBER or email
sales@weberlogistics.com