Do you operate a high risk chemical facility or do you sub-contract to a 3PL who does? The Chemical Facility Anti-Terrorism Standards (CFATS) identifies and secures chemical facilities that constitute the greatest security risk. In this day and age, if you outsource chemical storage and distribution, it's critical that you partner with an experienced provider. Read our guide: Chemical Logistics: 7 Tips for Choosing a 3PL Partner.

The three criteria that comprise a high-level security risk are:
Consequence – the consequence of a successful attack on a chemical facility.
Vulnerability – the odds that an attack on a chemical facility will meet with success.
Threat – the intent and means of an adversary (terrorist) with respect to attacking a facility.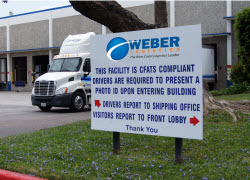 Performance standards are the benchmark from a security point of view in that almost all facilities have their unique security weak spots. Performance standards override a prescriptive mandate by offering overall security solutions based on varying scenarios in any given facility. In this way, security measures that are not uniform throughout each chemical facility present a unique problem for the would-be terrorist.

What is your Tier Risk in CFATS?

Homeland Security (DHS) has established a 4-level risk based tier structure for chemical storage that ranges from Tier 1 (highest risk) to Tier 4 (lowest risk). The assignment of each tier is established through an assessment of possible consequences of a successful attack on warehouses that store volatile chemicals.

DHS compiles information submitted by chemical storage areas through CSAT (Chemical Security Assessment Tool) to determine a facility's risk. They use the criteria mentioned above – consequence, vulnerability and threat – to establish your tier ranking.

CFATS Compliance Responsibilities

As part of this initiative, DHS invites all chemical facilities to request a Compliance Assistance Visit (CAV). Due to the fact that each facility has its own uniqueness, a broad stroke of compliance regulations is not feasible. During the CVA, compliance standards are tailor made to suit each of the risk factors that exist.

This actually makes it easier for any of the rated tier facilities to comply with DHS because you are following the custom made rules set out for you. A variety of risk factors will determine the tier level, including public health and safety and the presence of high risk chemicals that could have a critical impact on governance and the economy.

Beware Non-Compliance Penalties

Once your tier level has been established, your company has 120 days or about 4 months to submit SSPs (Site Security Plan). Failure to meet the prescribed deadlines can result in fines of up to $25,000.00 daily or ultimately a closure of operations. Weber Logistics operates a CFATS-compliant chemical storage facility outside of Los Angeles, where the company stores and distributes a wide range of chemical products, including flammables, corrosives, oxidizers, gases, powder coatings and non-regulated material.

Weber Logistics provides warehousing, distribution and transportation services in the Western U.S. and beyond. If you have further questions about CFATS, contact us on the web or call 855-GOWEBER (469-3237).
Interested in learning more about Weber Logistics chemical storage and distribution solutions?
Download our guide: Chemical Logistics: 7 Tips for Choosing a 3PL Partner: