Value-Added Warehousing Services in California and on the West Coast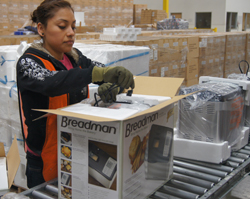 The old days of using a warehouse as a storage facility are long gone. Today's modern warehouses need to be product transformation centers where products are assembled, repacked, reworked, relabeled or somehow enhanced with a host of advanced warehousing services. At Weber, value-added warehousing logistics is our bread and butter.
For a consumer products importer, a team of 20 to 40 trained workers does final assembly of cooler bags to reduce storage and freight costs by over $500,000. Read California Innovations case study.
For a large importer, Weber does quality inspections on a percentage of inbound freight from Asia. We identify problems to the customer and, rather than ship product back to Asia, Weber often does rework projects to return the product to sellable condition.
For a leading brand of shavers and other personal care products, we receive products that did not sell during one holiday season and repackage the same products for the next holiday season.

Advantages of Weber's West Coast Warehousing Solutions
Reduce inventory. When you have a product with minor differences between multiple SKUs, store only the core unit and use Weber's inventory and product postponement services to complete final product configuration in the warehouse.
Quickly adapt to retail customer needs. Whether it's a new size, a new kit, a new label, or reworked packaging, Weber can boost your reputation with retail customers with fast, accurate response to custom requests.
Respond to product problems. Sometimes problems are identified with products that have already shipped from the origin point. Weber integrates with your systems to identify the hot containers, pull them quickly from the port, and provide drayage company services to move them to a Weber California warehouse for necessary rework.
Examples of Value-Added Warehousing Services in California and the West Coast
Order assembly and fulfillment
Pick and pack warehousing
Labeling/packaging/repackaging
Poly bundling/club packs
Promotional packaging
UPC bar code printing
Price ticketing
Inventory management
Labeling, repacking, and insertion of hangers
QA/QC
Need value-added warehousing services on the West Coast?
Contact us to discuss your needs in detail.