Inland Empire Warehouse and 3PL Services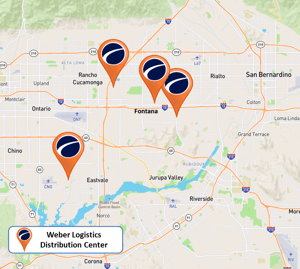 Provide economical warehousing services to your West Coast customers by using one of Weber's many warehouses within the Inland Empire Region of Southern California. The Inland Empire is located about 50 minutes east of Los Angeles and is a very popular region for warehousing and product distribution. Here Weber operates select warehouses dedicated to a single customer, but most Weber Inland Empire warehouse facilities are multi-client DCs that allow you space flexibility.
Weber warehouses in the Inland Empire are well-constructed, modern facilities with high ceilings. Products stored range from consumer products to food and candy. Warehouses offer easy on-off access from highways 10, 15, and 60 and are very close to the Ontario, CA airport.
Advantages of Weber's Inland Empire Warehouses and 3PL Services
Economical distribution to west region customers. Real estate and labor rates are lower in the Inland Empire compared to Los Angeles warehouses.
Food-grade warehousing. We can accommodate wide temperature range requirements, including frozen and chilled. All our Inland Empire warehouse locations are AIB-certified.
Trucking services. Weber operates a fleet of trucks, including dry and refrigerated trailers for your cold chain requirements. We combine Inland Empire warehouse services with last mile logistics services for a single source distribution solution.
Multi-warehouse campus environment. This lets us share trained staff among facilities so we can handle your volume spikes effectively and economically.
Import logistics services. Our port services team can manage drayage moves from the Ports of LA/Long Beach into our LA warehouses or Inland Empire warehouses.
Inland Empire Warehouse Details
Select any of the Inland Empire warehouse and fulfillment locations below to get specific facility details.
Need warehouse and 3PL services in California's Inland Empire?
Contact us for a detailed discussion of your needs.