West Coast Pool Distribution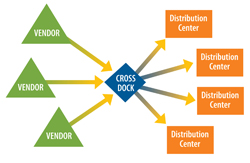 Avoid the high cost of LTL shipments to your western U.S. customers. Weber's West Coast pool distribution solution enables you to ship product into the market in lower cost TL volumes. We receive the product at one of Weber's West Coast warehousing facilities, segregate and sort product by consignee, and make the final delivery using Weber's fleet of carrier partners.
For multiple candy manufacturers, Weber receives truckload shipments of products from Midwest and East Coast plants to one of Weber's West Coast warehouses. From there, we sort products by order and make final deliveries.
Advantages of Weber Last Mile Logistics
Reduce freight costs. Use lower cost truckload moves for the longest leg of the product's journey.
Reduce transit times. Ship linehaul to the West Coast. Let Weber manage last mile logistics to your California and west region customers.
Maintain temperature integrity. Products can be received at a temperature-controlled, food grade warehouse and delivered using Weber's fleet of late-model, refrigerated trailers. Weber specializes in temperature-controlled transportation, including refrigerated LTL delivery.
Unlike other pool distribution companies, Weber provides an integrated warehousing and delivery solution, with systems that track your inventory throughout the distribution cycle.
West Coast Pool Distribution for Retail
Are you a retailer that needs to consolidate shipments from multiple vendors for direct store delivery? Weber can receive product from your suppliers and build daily loads for stores, working with store-level staff to coordinate delivery times.
Need last mile logistics services on the West Coast?
Contact us to discuss whether our West Coast pool distribution solution is right for your company.