Weber's Logistics Quality Program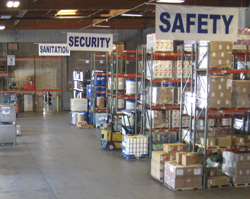 For too many third party warehousing companies, quality is a buzzword. Look behind vague quality program descriptions and you'll find more generalities. At Weber, we've built genuine rigor around logistics quality into day-to-day operations, with a well-developed set of tools, processes and reporting disciplines. As a result, you can stay focused on the big picture, while we deliver precise execution of daily fulfillment requirements.
Pillars of Weber's logistics quality program
Start-up implementation. Superior quality starts with an error-free launch of a new facility or project. Weber's 350-point, start-up checklist keeps everyone focused and on point. What's different about our start-up team? You. Customers are involved in every single status call, ensuring complete transparency and no surprises.
Quality audits. Done daily by the DC manager at each facility, and monthly by our corporate quality manager, with a quarterly trend analysis discussed with customers at the quarterly business review.
Transparency. Audit results are reported and scrutinized at regular operations meetings, promoting healthy competition among DC managers on logistics quality performance. And you can monitor performance real time since audit results for each account are updated daily on our secure web portal.
KPI measurement and reporting. Track performance against your key metrics on the web at any time. We measure and post certain standard KPIs. Custom metrics and reports are developed at the customer's request.
Training. Staff is regularly tested on their knowledge of the standard operating procedures for their accounts. Fail the test and immediate re-training takes place.
Need quality logistics support?
Contact us today for a detailed discussion of your needs.