Southern California Transloading Services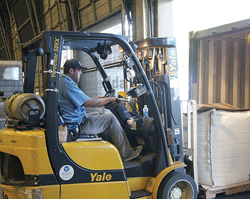 Weber's ability to receive and process rail shipments lets you leverage lower cost rail for inbound shipments to drastically reduce freight costs. With our Southern California transloading services, you can ship your products by rail into California, where we break them down and prepare them for final delivery. Weber has rail spurs (BNSF and Union Pacific) at several distribution centers.
Unlike other transloading facilities that offer only freight services, Weber can store your inventory and serve as your California fulfillment warehouse.
For a major manufacturer of fruit juices, Weber receives rail containers of temperature-controlled products from around the country, unloads them at a Weber Los Angeles warehouse, stores them awaiting outbound orders, and then loads trucks for final store delivery.
For a leading children's apparel supplier, Weber receives, sorts and segregates container freight and loads freight onto trailers for distribution to retailers around the country.
Advantages of Weber's Southern California Transloading Facilities
Reduce freight costs by leveraging intermodal freight strategies.
Maintain your cold chain requirements utilizing Weber's temperature-controlled distribution centers.
Transload and store goods in the most economical location for your customers. Weber operates transloading facilities in Southern and Northern California, Arizona and Nevada.
Simplify your supply chain. Use Weber for transload services only, or leverage our full capabilities in drayage, warehouse, and West Coast trucking company services.
Looking for transloading facilities in Southern California?
Contact us for a detailed discussion on your needs.