Confectionery Logistics Services in California and the West Region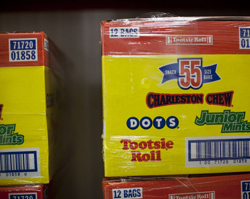 Hershey's, Nestle, Ghirardelli, Tootsie Roll, Demets, Just Born. These are just some of the candy manufacturers who entrust Weber with reliable distribution to west region customers. With temperature-controlled warehouses throughout the region and refrigerated trucking services, Weber gives you a single source solution for warehousing and delivery of your confectionery products in the west.
For multiple confectionery customers, Weber consolidates loads to the same retailers and does multi-stop truckload deliveries using Weber's fleet.
For a European marketer of candy products, Weber manages drayage from the port, warehousing and last mile delivery of multiple brands.
Advantages of Weber's Confectionery Warehouse and Logistics in California
Maintain cold chain requirements. Weber has one of the west region's largest infrastructures for temperature-controlled warehousing and transportation. Required temperature ranges are monitored and maintained to ensure product integrity and freshness.
Reduce freight costs with consolidation. Weber's active freight consolidation services for confectionery products lets you cut retail delivery costs. We can also reduce your inbound freight costs into the west region by accepting your pool distribution shipments at a Weber warehouse and breaking these into pallets for last mile delivery.
Increase retail customer satisfaction. We make frequent deliveries to regional retailers and enjoy strong relationships with them based on 99.9+% on-time delivery.
Need warehousing and logistics support for confectionery products?
Contact us
to discuss your needs. Better yet, visit a Weber confectionery warehouse to see our process in action.