Food and Beverage Logistics Services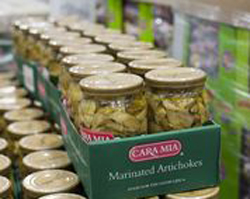 Don't entrust your food and beverage logistics requirements to anyone but an expert. Weber operates food-grade warehouses in California and has four decades of experience serving companies in the food, alcohol and confectionery industries.
For a major manufacturer of fruit juices, Weber receives temperature-controlled rail containers from around the country, unloads them at our Los Angeles food-grade warehouse, stores them awaiting outbound orders, and then loads trucks for final store delivery.
For one of the largest wine and spirits companies in the world, Weber picks up ocean containers in Long Beach, California and transports them to a Weber container freight station for deconsolidation, storage and final distribution.

For a candy manufacturer, Weber stores multiple candy brands in a temperature-controlled, food-grade warehouse and ships to regional retailers using Weber's refrigerated trucking services.
Advantages of Weber's Food Logistics Experience
Reduce your risk. All Weber food-grade warehouses are American Institute of Bakers-certified and SOPs meet all FDA and TTB requirements.
Meet all cold chain requirements. We offer air conditioned, cooler and frozen warehouse environments.
Integrate storage and delivery. Many of our food and beverage customers deliver pre-paid and appreciate Weber's ability to both store and ship their products. Weber is one of the largest refrigerated LTL carriers on the West Coast.
Reduce costs through freight consolidation services. We serve many grocery product manufacturers and may be able to consolidate your deliveries with other customers.
Manage your inventory. We carefully monitor inventory by expiration date and use our system to ship according to FEFO, FIFO and other protocols.
Food-Grade Warehouse Capabilities
Advanced WMS manages stock rotation logic.
Lot tracking in case of recalls.
Direct rail access at many Weber DCs.
Organic certified food warehouse. Our MOAC certification attests to Weber's stringent guidelines for housekeeping and cleanliness.
Professional Affiliations
Council of Supply Chain Management Professionals (CSCMP)
Food Shippers of America (FSA)
Food Shippers Association of North America (FSANA)
National Confectioners Association (NCA)
International Association of Refrigerated Warehouses (IARW)
International Warehouse Logistics Association (IWLA)
National Confectioners' Logistics Council (NCLC)
Warehouse Education and Research Council (WERC)
Need a food-grade warehouse in California or on the West Coast?
Contact us to discuss your specific requirements.