Vendor Compliance Management to Reduce Retail Chargebacks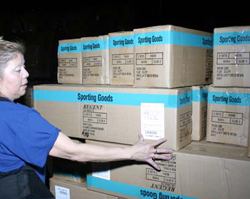 Weber Logistics specializes in helping CPG companies meet the precise delivery requirements of big box retailers. Watch our short vendor compliance video. You can rely on Weber to monitor routing guide changes and ensure that your packing, delivery and EDI requirements are met to avoid retail chargeback penalties.
To learn more, download the Weber Insight paper: "How to Reduce Chargebacks in Your Vendor Compliance Program." At the heart of Weber's vendor compliance management program is our internal website, which serves as a comprehensive clearinghouse of routing guide data for all major retailers. Customer service and warehouse staff at all Weber distribution centers use this as their central point of reference, eliminating subjective interpretation of requirements.
Bottom line: if you are struggling to meet retailer requirements or are trying to position your company to become a supplier to one or more mass retailers, Weber can help. We've mapped EDI feeds and retailer-compliant labels to speed the compliance process.
Advantages of Weber's Vendor Compliance Management Services in California
Reduce chargebacks. We'll help you avoid costly penalties that reduce your profit.
Challenge chargebacks. To do so, you need evidence that the penalty was not warranted. Weber has designed our operational processes with compliance in mind. For instance, for late delivery charges, we can reference detailed historical reports that show when drivers signed in and out of the DC.
Save time. Retailer routing guides are constantly changing and keeping up requires focused resources. Weber can do that for you, freeing your staff up for more strategic tasks. For example, we do daily uploads of address changes at Walmart and often catch bad addresses before our customers do.
Need to reduce retail chargeback penalties?
Use Weber Logistics to manage your product distribution and handle vendor compliance on your behalf. Contact us today to discuss you needs in detail.