Freight Consolidation Services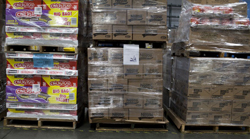 Reduce your local delivery costs dramatically with Weber freight consolidation services. Because many of our consumer goods customers ship to the same retailer distribution centers, we can combine your freight with other companies to deliver to the same consignees in full truckload shipments. You pay only for the portion of the load your product represents.
For multiple food manufacturers, Weber consolidates freight shipments to grocery, drug store and mass retailers using Weber's refrigerated trucking fleet. By shipping together and sharing delivery costs, participants beat the high cost of last mile logistics using LTL.
Advantages of Freight Consolidation Services
Reduce outbound delivery costs to your West Coast customers.
Reduce damage by avoiding LTL terminal networks.
Automate the consolidation process. Our TMS examines ship-to locations and RAD dates and automatically flags freight consolidation opportunities.
Need freight consolidation services on the West Coast?
Contact us today to discuss your specific challenge with final mile delivery for west region customers.