Refrigerated LTL Carrier & Trucking Services in California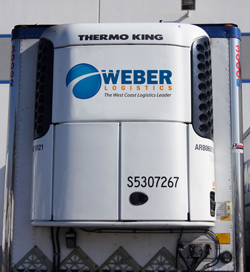 Weber is among a limited number of refrigerated LTL carriers on the West Coast. While other refrigerated trucking companies use partners, Weber shipments are handled on Weber assets, with no handoff to intermediate carriers.
For many candy and food manufacturers, Weber receives full truckloads sent from plants and warehouses in other regions of the U.S. We break down products by order, cross dock the freight in temperature-controlled dock areas, and coordinate refrigerated LTL final delivery of consolidated, multi-vendor loads.
For a Fortune 500 food manufacturer, Weber delivers food products with different temperature range requirements in single trailers that have multiple temperature range capabilities.
Advantages of Weber Refrigerated LTL Carrier Services
Guaranteed capacity. Our fixed asset fleet includes a large number of refrigerated trailers for temperature-controlled transportation.
Reliable equipment. Late model tractors and the latest generation of Thermo King SB210 Whisper units.
Shipment integrity. Temperature monitoring and multiple temperature capability within the same trailer (33⁰–38⁰ and 55⁰–70⁰).
Integration with temperature-controlled warehousing. Weber has a strategic focus on food and beverage logistics and operates food-grade warehouses throughout the western U.S.
Looking for refrigerated trucking companies on the West Coast?
Weber specializes in food-grade warehousing and refrigerated LTL delivery in the western U.S. Contact us for a detailed discussion of your requirements.