Contract Warehousing in California and on the West Coast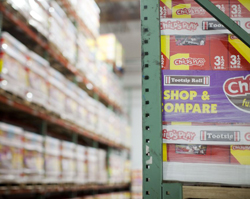 While Weber offers Los Angeles public warehouse company services, most of our work is contract warehousing – business managed under longer term contracts in multi-client facilities or warehouses dedicated to a specific customer. Such contract logistics arrangements involve space and staff dedicated to running your day-day-day distribution operations.
We approach contract logistics with a shared services mentality. Because Weber DCs and resources are concentrated in the west region, particularly Southern California, our customers regularly share trained staff to support seasonal or unexpected volume spikes. This bench strength reduces the need for overtime and training of temporary staff.
For a nationwide discount retailer, Weber provides warehousing to support the company's aggressive sourcing team, which purchases large amounts of inventory for upcoming seasonal sales.
For a multi-brand consumer products company, Weber ships over 2.5 million cases per month and supports 40-80 special projects per month (rework, re-packaging).
Advantages of California Contract Logistics Services
Reduce logistics costs. Typically, our engineers and operators can identify immediate cost saving opportunities through warehouse process improvement and automation.
Divest assets. Leverage Weber buildings, systems and staff to create a world-class, "virtual" logistics operation.
Create a flexible, scalable logistics infrastructure. Store your inventory in one of Weber's West Coast warehouse distribution centers, or let us work with our real estate partners to identify the right facility for your needs.
Temperature-controlled warehousing. Air-conditioned, chilled and frozen rooms within food-grade warehouses.
Superior quality start-ups. Precise start up methodology minimizes the risk in logistics transitions.
Typical Contract Warehousing Services
Daily critical inventory reporting
Cycle counting
Productivity reports
Order replenishment
UCC128 label generation
Shelf-life management
EDI/ASN generation
Reverse logistics management
Real-time reporting
Vendor compliance management to avoid chargebacks
Recall management
Need contract logistics services in California or the west region?
Talk to the West Coast logistics specialists. Contact us to discuss your needs in detail.