eCommerce Fulfillment Services & Warehouse in California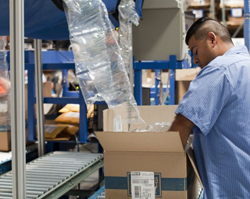 The growth of online shopping has challenged companies to create efficient eCommerce fulfillment services. Weber can help. We manage eCommerce fulfillment warehouses in Southern California for a variety of consumer products. In most cases, we manage B2B and B2C fulfillment warehousing from the same facility to control inventory and operations costs.
For a growing retailer of healthcare products and supplements, Weber ships store replenishment and direct-to-consumer orders from the same fulfillment warehouse. Read the Vitamin Shoppe case study.
Order receiving
We can take data in any format and receive it into our warehouse management system.
Inventory management
Your inventory is managed to a 99.9+ percent accuracy level, aided by a full-featured WMS system. Items scanned at receipt are immediately visible via our web portal. Inventory is managed using FIFO, LIFO or FEFO processes.
Pick and Pack
Efficiency in eCommerce fulfillment is critical to profitable online sales. Weber's in-house industrial engineers design efficient pick processes to minimize time and labor. Orders are picked and automatically verified for accuracy during scan in at the packing station.
Shipping eCommerce fulfillment orders
Fulfillment warehousing is just part of an overall eCommerce fulfillment service. Weber can manage outbound shipments using your parcel account or our own. We are integrated with UPS, FedEx and all major 3rd party shipping systems for eCommerce fulfillment. Orders cutoffs are as late as 5 pm.
Tracking
Check order status, delivery status and inventory online 24/7 via our easy-to-use web portal. Can't get the information you want online? No problem. You will be assigned a dedicated account manager within our customer service group to answer your questions.
Need eCommerce fulfillment services in California?
Contact us today to discuss your requirements.