Food-grade Warehouse for Los Angeles and Western Region Markets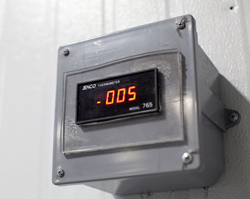 Weber specializes in the management of food-grade warehouse facilities in Los Angeles and the western U.S. By using Weber for temperature-controlled warehousing, you avoid the large capital expense of maintaining your own space. As one of the leading refrigerated LTL carriers in California, we are able to combine temperature-controlled warehousing and transportation for an integrated cold chain solution in California, Phoenix and the Pacific Northwest.
For a large food cooperative, Weber manages daily replenishment of grocery chains.
For multiple candy manufacturers, we store products in 55°–64° temperature-controlled warehouses and ship consolidated loads to regional retailers.
For an organic food company, Weber stores bulk product in its raw state, then mixes ingredients to create the final product and packages it into 1, 3, 5 and 10 pound bags based on customer demand.
Features of Food-Grade Warehouse Storage with Weber
Food-grade warehouses in Los Angeles and Stockton California areas
All facilities AIB-certified
Ambient, chilled and frozen space available
Automated temperature monitoring – out of spec readings trigger immediate pager messages
Warehouses certified to handle organic products
Co-location of many food and grocery customers reduces freight costs through freight consolidation
Need temperature-controlled warehousing in Los Angeles or across the Western U.S.?
Talk to the West Coast logistics specialists. Contact us today to discuss your needs.