Pick and Pack Warehousing Services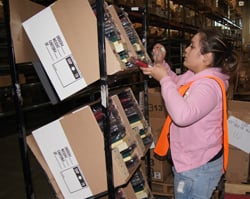 Reduce your distribution costs and focus on your core business by using Weber as your California fulfillment warehouse. Unlike other California fulfillment companies, Weber offers pick and pack services throughout the state, as well as Nevada and Arizona, providing location flexibility.
We provide high-volume pick and pack services in California for many consumer product companies.
For a major manufacturer of leather accessories (wallets, belts, travel kits, etc), Weber provides national distribution for both B2C and B2B channels, including store chains like Macy's, J.C Penney and Nordstrom. The high-volume, pick and pack operation includes many value added services such as rework projects, product postponement, ticketing, and sub-styling.
For a vitamin product retailer, Weber does daily replenishment for 200 west region stores. Since stores don't have a backroom, replenishment orders are based on daily POS data and Weber's pick and pack operation in Southern California prepares smaller orders that are received and go directly onto the shelf. Read the Vitamin Shoppe case study.
Advantages of Weber's Pick and Pack Services
Reduce labor costs for pick and pack fulfillment. Unlike many California fulfillment companies, Weber has an industrial engineering staff that designs the most efficient pick paths.
Optimize workflows with advanced fulfillment systems using wireless and bar code technology.
Reduce chargeback fines. Weber has the 3PL industry's most advanced vendor compliance management program.
Get up and running fast. Our systems team can quickly build the necessary data interchange links, while our operations team works with you to achieve a fast, seamless transition.
Ease your administrative burden. Using our fleet of trucks for West Coast freight transportation, Weber can be your single-source partner for both pick and pack services and last mile logistics.
Looking for fulfillment companies in California?
Choose one with deep experience in pick and pack services. Contact Weber today to discuss your fulfillment warehouse needs in detail.