Retail Logistics Solutions on the West Coast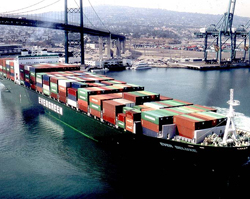 As a retailer, your logistics program needs to ensure a reliable flow of goods to your stores, while remaining agile enough to economically manage volume fluctuations and last-minute projects. Let Weber manage your West Coast logistics retail operations while you focus on growing your business.
For a cooperative of supermarket and food service providers, we automated the distribution process to improve inventory management and labor efficiency.
For a nationwide discount chain, Weber warehousing supports the company's purchasing team, which sources large amounts of retail inventory for upcoming seasonal sales.
Advantages of Weber's Logistics Services for Retail
Consolidate logistics providers. Ease your administrative burden and lower overall costs by leveraging Weber's ability to manage drayage moves, warehousing and last mile delivery services in California and the western U.S.
Outsource with full visibility and control. Our WMS can integrate with your systems so you're plugged in, real-time, to inventory, order status and all Weber activities on your behalf.
Cut freight costs with pool distribution. Have product shipped to Weber in lower cost full truckloads. We can break down shipments at one of Weber's West Coast 3PL distribution facilities and manage final store delivery on Weber trucks.
Manage volume spikes. Among 3PLs, Weber has the densest concentration of Southern California warehousing facilities for retail distribution. We regularly share trained staff in order to minimize overtime and avoid productivity lags that can occur with temporary workers.
Location flexibility. Place your inventory where it makes the most sense. We operate retail distribution centers in LA County, the Inland Empire, Northern California, and San Diego.
Pre Retail Services
Keep your store-level staff out of the back room and on the store floor. Weber regularly provides ticketing, labeling, kitting and other value-added warehouse services so retail products can go right to the store floor upon arrival.
Need retail logistics services in California or on the West Coast?
Contact us to discuss your needs in detail.