Transportation Logistics Services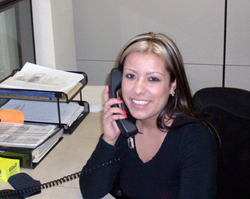 Weber Logistics supplements its fixed asset fleet with a large pool of qualified carriers for all your transportation needs. Weber provides truckload, LTL, intermodal, parcel, expedited and air service throughout North America.
Unlike many other 3PL companies, we know the market. Founded in 1924, Weber has spent decades identifying the most reliable, cost-effective carriers for your freight.
For a nationwide convenience store chain, Weber manages night deliveries to AZ, WA, CO, and TX. We have an excellent record of on-time delivery for these time-sensitive shipments, which trigger large chargebacks if appointments are missed.
For a large drink manufacturer, Weber's transportation logistics group manages port drayage, inbound loads to the company's distribution centers, and outbound TL deliveries to local retail locations throughout the United States.
Weber Advantages Over Other Freight Management Companies
Fast quotes. With Weber's robust network of service providers we can provide quotes for all service types quickly and easily.
Flexible delivery. Use our large carrier network to create "virtual" shipping capacity on demand.
Maximum control. Track and trace shipments anytime, anywhere on our web portal.
Personal service. With Weber, you'll have a single contact who will understand your needs and the unique aspects of your freight.
Looking for a reliable freight capacity?
Partner with a California company with 88 years of experience moving freight. Contact us today to discuss your needs in detail.