Black Friday, Cyber Monday, and the holiday season are critical periods for many companies. For both brick-and-mortar retailers and online merchants, the holidays may be the year's peak sales period, representing in excess of 50% of their annual business. With so much on the line, it is critical to be prepared.
Today's consumers have no tolerance for inaccurate orders, delayed shipments, or unresponsive customer service. They expect the perfect order, every time.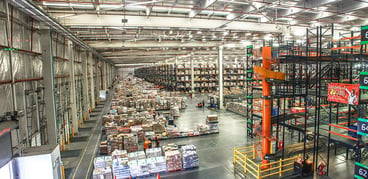 This expectation can put significant pressure on order fulfillment operations. They are often under fire to handle a tremendous volume surge, while still delivering the right products in a timely manner at a reasonable cost
Given these stakes, it is not surprising that fulfillment excellence is a key area retailer's focus on as they prepare for the holiday rush. The challenge is knowing where to start.
Successful fulfillment begins with strategic and tactical planning well in advance of the holiday season. It helps to establish sales projections early on, and then evaluate all aspects of fulfillment operations to ensure that resources are in place to accommodate them. Key steps to success include:
Assure robust technology. Systems-based planning plays a critical role in holiday fulfillment. Consider the effectiveness of current IT systems, and confirm that both hardware and software are capable of handling increased volume. Data-tracking metrics are also essential for identifying and addressing issues quickly. Where applicable, ensure that systems are effectively integrated with those of third-party providers.
Assemble necessary resources. Take stock of facilities, equipment, and supplies. Confirm that there is sufficient space to handle increased volume, and that it is configured for optimal order processing. Verify that equipment can accommodate increased holiday volume, assess any holiday-specific packaging requirements, and order necessary supplies. Identifying and addressing critical needs early on can prevent major headaches at the height of the holiday season.
Perfect processes. Take time to evaluate fulfillment processes and operations. Fine-tune receiving to ensure incoming products are compliant—correctly bar-coded and packaged, for example—so they can be put into stock quickly for efficient turnaround. Evaluate picking and packing processes to ensure optimal efficiencies.
Get all hands on deck. Staffing can present one of the biggest challenges during the peak holiday season. Arrange for additional support well in advance, and provide sufficient training and cross-training so associates in all areas can hit the ground running. Arrange to have key staff—especially IT—on call throughout the season, and ask employees to minimize the use of vacation time.
Define delivery. Research holiday delivery options. It's important to be aware of carrier cut-offs, service-level options, pick-up times, and holiday delivery guarantees. Understanding these details is essential to setting and meeting customer expectations.
Consider Outside Help
Many companies find third-party logistics providers' valuable allies for seasonal fulfillment—for a complete product line or just a portion of their fulfillment needs. For example, they may choose to outsource fulfillment of items that require extensive handling or significant storage space to help free up internal resources.
An experienced fulfillment partner can offer scalable space, advanced technology, flexible staffing, established relationships with suppliers and carriers, and familiarity with best practices.
With strategic planning, careful attention to necessary resources, effective communication, and support from supply chain partners, the holidays can be the most wonderful time of the year.