From the inception of the COVID crisis, Weber has continued full operations as an essential business serving our nation, with all our West Coast operations continuing to serve our clients at a high standard. At this time, Weber is experiencing steady increases in business levels, as both the regional and national economies continue to open up.
For a description of our ongoing safety protocols that were instituted and remain in place, please see our updates below. If you have further questions, please feel free to contact me directly, or fill out our contact form and we will be in touch shortly.
I thank you, as always, for your continued support.
Sincerely,
Robert E Lilja
Chief Operating Officer
Update 5/29/20
This week saw a continuation of the positive retail services movement that I described in my last update. A big part of this momentum stems from the fact that consumers in most states can now visit retail stores.
On the West Coast, retail stores in Arizona and Idaho have allowed in-store shopping since early May. Stores in Oregon and Nevada are also open, though Oregon stores within malls are subject to county approval, while Nevada stores are limited to 50% of maximum occupancy.
California and Washington have been the most restrictive in terms of retail store openings, but that is changing.
In California, retail stores across the state can now offer in-person shopping. According to a statement from the California Department of Public Health, "Subject to approval by county public health departments, all retail stores can reopen for in-store shopping under previously issued guidelines." The state also issued guidelines for retail stores to ensure safe and clean conditions for retail workers.
In Washington, many of the state's counties remain in Phase 1 – which limits retail shopping to curbside pickup only. It is only when a county enters Phase 2 that in-store shopping will be permitted. As shown by the map below, however, an increasing number of counties are now in – or permitted to apply to enter – Phase 2.

As more and more shoppers are allowed to enter stores, things continue to head in the right direction for retail on the West Coast.
I look forward to reporting more positive news in the near future, and I thank you for your continued support.
Sincerely,
Robert E Lilja
Chief Operating Officer
update 5/22/20
This week showed more promise for retailers in the Western U.S. as they eagerly anticipate the return of in-store customers. States like California and Washington have taken steps to scale back stay-at-home orders for several counties and reduce restrictions on retail businesses.
At Weber, we're seeing increasingly positive signs as we head into summer. These include:
An uptick in inbound container volumes among many of our customers.
A very significant increase in value-added service (VAS) work as customers gear up for the new season. We've been handling large volumes of repackaging, display building, relabeling and postponement projects for goods ranging from auto accessories and picnic coolers to consumer electronics and hand sanitizer.
Outbound retail orders continue to pick up, particularly within the clothing industry.
Our airline services are seeing an uptick in activity as more flights begin to take off.
eCommerce activity remains strong and steady, particularly among home goods and home improvement products.
Chemical operations also remain very strong and show no signs of letting up.
With Memorial Day upon us, we are optimistic that supply chain operations will continue to improve as summer gets into full swing. I thank you for your continued support and hope you enjoy a happy and healthy Memorial Day weekend.
Sincerely,
Robert E Lilja
Chief Operating Officer
Update 5/15/20
Last week, outbound retail orders were showing significant signs of life. This week, we want to keep the spotlight on retail and give a state-by-state breakdown of what retail shoppers can and can't currently do in the Western U.S.
California. Stay-at-home orders remain in effect for non-essential personnel, though the state has recently moved into Phase 2 of California's Pandemic Roadmap. Phase 2 allows for the re-opening of "lower-risk workplaces" and allows retailers to provide curbside pickup services. Local jurisdictions that meet the requirements of the Roadmap can (and are) proceeding through the re-opening phases at a quicker pace than the state as a whole.
Nevada. The state has begun to reopen its economy. Retailers can allow in-store access in addition to drive-up and curbside pickup services. Access is restricted, however, to 50% of maximum occupancy based on local fire department requirements.
Arizona. The state has rescinded its stay-at-home orders and businesses are allowed to reopen.
Oregon. As of May 15, retail stores across the state can now reopen – regardless of whether they are in a county designated to begin Phase 1 of reopening. However, this state ruling does not apply to retail stores located within malls – those stores will be permitted to reopen on a county-by-county basis.
Washington. Retailers can currently offer drive-up and curbside pickup services. When the state enters Phase 2 of its reopening – currently slated for June 1 – stores will be allowed to admit customers.
Idaho. Retail stores have reopened in early May as part of the state's first phase of reopening.
As retail momentum continues to pick up, Weber Logistics is proud to continue to support it with the safety and efficiency our customers expect from us.
Sincerely,
Robert E Lilja
Chief Operating Officer
update 5/8/20
In last week's update, I shared some positive economic indicators that Weber and our clients have started to see as we all carry on during the challenges of the COVID-19 outbreak. Specifically, we noted that ocean container inbound shipments had risen to a 5-month high, and e-commerce business among our retail clients was hitting record numbers.
This week, we're happy to report signs of another promising retail trend: a significant increase in outbound retail order volumes in the first week of May. Among the distribution segments that Weber performs for our clients, this channel was unquestionably the hardest hit from the outbreak. The increase in volumes that we're now seeing is therefore a most welcome sign.
Our clients are beginning to report increased purchasing as more retail stores open back up across the country, and more customers take advantage of the social-distancing options for purchases, including more widely available pick up in-store (BOPIS) and curbside pickup. If this order activity continues to ramp up, we will have every reason to expect stronger May and June volumes for our retail clients, with sales strength in both the e-commerce and retail channels.
With these "leading indicators" of better days, the Weber team thanks you for your continued trust and support.
Sincerely,
Robert E Lilja
Chief Operating Officer
update 5/1/20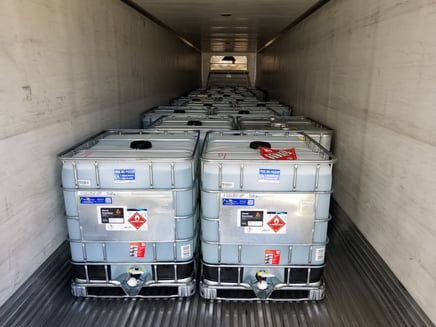 Weber continues to be privileged to play a key role in the supply chains of many essential industries. In recent weeks, several of our valued clients have developed new production of critical products associated with the COVID crisis, including hospital gowns, masks, and hand sanitizer – sometimes by the 250-gallon-or-greater (see inset photo) tote!
Ocean container inbounds – particularly those associated with imports from countries throughout the Pacific Rim – have risen to a five-month high. Additionally, many of our retail clients have experienced record levels of e-commerce business. Overall, Weber has seen its total ecommerce shipment volume increase by nearly 140% from its previous peak in 2019.
Our clients are optimistic about continued economic improvement in 2020. We are receiving work orders to convert hundreds of thousands of items from bulk and traditional retail packaging into parcel packaging, point-of-sale displays, and many other valued-added configurations. Weber has succeeded in ramping up for these demands, despite the challenges to maintain social distancing within production lines and to assure that employees are trained in new processes associated with new projects each week.
We at Weber are proud to play a vital role for those that depend on us – assuring the health and safety of our employees and their families, while executing during this unique moment in history.
I wish all of you, your colleagues, and your families health and success as we meet the challenges of the present while building the future.
Sincerely,
Robert E Lilja
Chief Operating Officer
update 4/24/20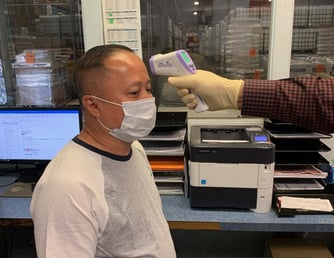 This week saw the full rollout of the temperature scanning protocol that we described in last week's update. With this new process, a temperature scan of each Weber employee or temporary associate is conducted at the beginning of each shift, while visitors, vendors, and customers are scanned prior to entering any facility office or warehouse.
These temperature scans are performed by facility leadership wearing appropriate PPE equipment. All appropriate personnel have been fully trained.
Individuals who have an abnormally high temperature that may indicate dangerous and infectious illness are not allowed to enter the facility.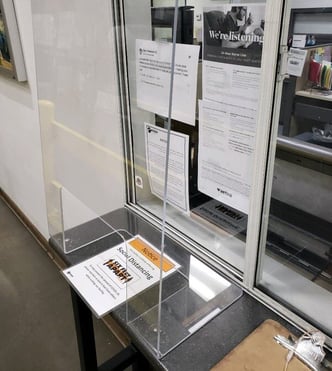 Throughout our facilities, we have installed sneezeguards in every shipping/receiving window, as well as other select areas where they are effective, in order to further prevent the possible spread of infection.
We are happy to report that have not had any positive COVID-19 diagnoses among Weber staff. We continue to have full attendance and our employees are happy and proud to serve in an essential industry.
There are also promising signs from the ports this week as imports are starting to increase. We are eyeing the situation closely and are hopefully that this is a harbinger of better days to come for the West Coast logistics industry.
As always, the Weber team thanks you for you continued trust and support.
Sincerely,
Robert E Lilja
Chief Operating Officer
update 4/17/20
Weber Logistics is happy to report our continued success through these challenging times in providing timely distribution of our clients' "essential" goods all over the West and throughout the United States.
A part of our 'new normal' – like the 'new normal' for many companies – involves frequent virtual leadership meetings to facilitate social distancing.
These meetings include Leadership of all 12 of our DCs along with our 5 Transportation Centers, along with key department heads throughout the organization in our critical disciplines, including Human Resources, Safety, Compliance, Finance, and Information Technology.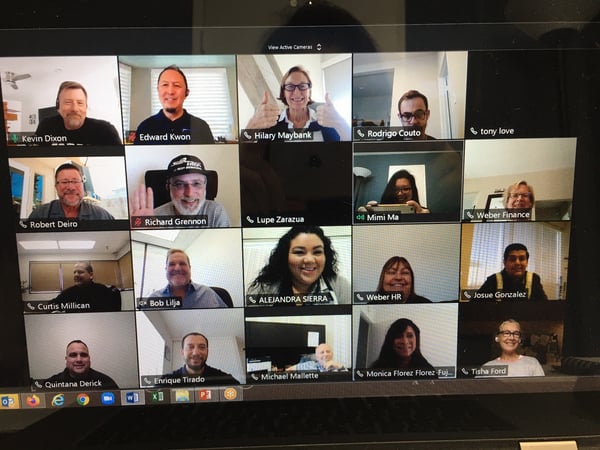 This week, we have also formalized our long-planned temperature scanning protocol across our facilities. This protocol is aided by the recent (and challenging!) acquisition of 36 electronic thermometer guns that will be used to scan the temperatures of every individual entering a Weber facility.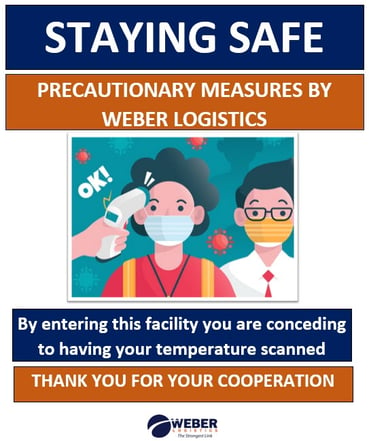 The temperature scan of each Weber employee or temporary associate (warehouse, transportation, administrative, and corporate) is conducted at the beginning of each shift, upon the associate clocking-in or starting his or her workday.
Visitors (other than Weber employees who have already checked in elsewhere on that workday), including vendors and clients, must have temperature scans conducted in the entrance lobby of an office prior to entering further into any facility office or warehouse. Signage, indicating the practice of temperature scanning all visitors, will be placed outside the employee entrances and front offices to alert those individuals of our requirements for admittance.
These temperature scans are performed by facility leadership (a manager, supervisor, or corporate leader) wearing appropriate PPE equipment.
Individuals who have an abnormally high temperature that may indicate dangerous and infectious illness are not allowed to enter the facility.
Thank you, from the entire Weber Team, for your continued trust and support.
Sincerely,
Robert E Lilja
Chief Operating Officer
UPDATE 4/10/20
At Weber Logistics, we are immensely proud of the way that all our associates have risen to the challenges created by COVID-19. We also want to highlight the efforts of one key set of employees that tend to get overlooked: our Human Resources Department.
Headed by Derick Quintana-Hooker, Senior Director, our Human Resources team has truly gone above and beyond to protect the health of our workforce and keep operations moving.
Once the COVID-19 epidemic hit, Weber's HR team sprang into action by aligning with CDC guidelines and implementing company-wide protocols related to sanitation, hygiene and social distancing at all 12 of our facilities.
From there, the arduous task began of procuring the necessary PPE (e.g., masks, gloves, disinfectants) to keep our associates and facilities safe. Our HR team worked with a variety of vendors to coordinate deliveries and also hit the road themselves – visiting over 30 area stores to bolster our stock of needed supplies. We now have a 4-week supply on-hand at each facility, along with an emergency backup supply and a centralized ordering system where associates can place orders for the items they need.
Additional HR efforts related to the COVID-19 outbreak have included:
The hosting of regular Town Hall meetings where employees can receive information updates, address concerns and ask questions.
The modification of sick time policy so that employees who feel ill – but have not yet accrued paid sick time – would receive paid sick time to discourage coming to work when feeling unwell.
Partnering with our benefits carrier to set up teledoc services for employees. Co-pays are waived for visits that could be related to COVID-19.
Implementing a mandatory mask policy and temperature checks at all facilities.
Rolling out a COVID-19-based training course through our eLearning system to the entire employee population. Employees are reimbursed for time and data usage for taking this course.
Our hats are off to the logistics associates that are persevering through this crisis – and the Human Resources teams that support them.
Thank you,
Robert E Lilja
Chief Operating Officer
Update 4/3/20
Weber Logistics is completing a very busy week today, with strong e-commerce shipping to people's homes, as they stay safe and healthy while we together move forward through this national crisis.

In California, the very first state to issue a Stay-at-Home Order, the result has been quiet highways, closed parks and beaches, and strong focus from essential industries, like ours, to build social distancing into the very fabric of our workplaces. You can see some of our efforts in the pictures here, in shipping/receiving offices and breakrooms.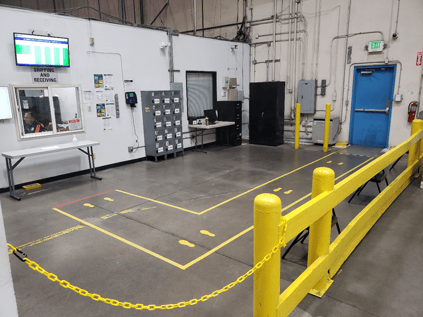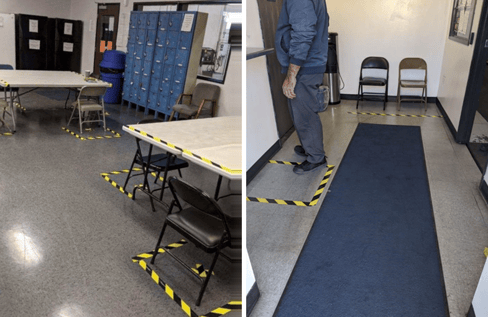 The Governor of California, Gavin Newsom, recently tweeted a thank you to the professionals in our industry: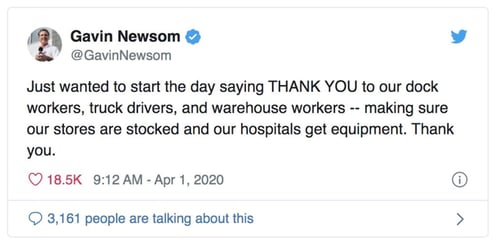 One of our clients, Evenflo Feeding, recently arranged for production of hand sanitizer by a sister company in response to the acute need here in the U.S. "You have been a great partner in this time of need," stated Elaine Bobbey, President of Evenflo Feeding.
Here is a pallet of it, staged for delivery today, out of Weber's Fontana II Distribution Center: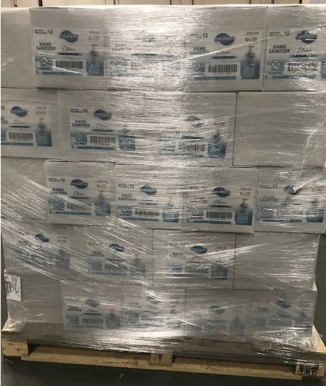 The distribution of food, healthcare products, and pharmaceutical materials are among the core industries serviced by Weber. Our teams throughout our network bravely come to work every day, committed to supporting our clients' supply chains as we do our part to deliver those products rapidly to Americans, from Coast-to-Coast.
Thank you, from all the Weber Team, for your continued support.
Sincerely,
Robert E Lilja
Chief Operating Officer
UPDATE 3/27/20
Weber Logistics, as an essential infrastructure industry servicing other essential industries, continues in full operation across all our facilities and trucking operations.
We have implemented strong COVID-19 prevention-related protocols internally (see 3/14/20 update below for more information), and the Weber Team is willingly and diligently assuring compliance and execution day-after-day, shift-after-shift, throughout our entire organization. We will continue to follow and implement the directions and recommendations of all federal and state health authorities to assure that we protect our employees' health to the very best of our ability.
Our distribution of food, clothing, and many other important products needed by Americans every day is a duty that we are committed to maintaining with reliability and excellence.
Weber remains committed to serving our valued clients and we thank them for their continued confidence in the Weber Team.
Thank you,
Robert E Lilja
Chief Operating Officer
UPDATE 3/20/20
Re: State of California Stay at Home Order
As you may already be aware, last night Governor Gavin Newsom issued an order to all individuals living in the State of California to stay at home or place of residence except for essential industries to slow the spread of the COVID-19 (Coronavirus). Here is a link to the Executive Order.
The order, which goes into effect today, March 20, states that exempt from this order are individuals, workers and businesses that are needed to maintain the continuity of operations to critical infrastructure sectors as outlined by DHS Critical Infrastructure Sections.
Consistent with the DHS Critical Infrastructure Section, we believe that it is clear that Weber Logistics is an essential business needed to maintain the continuity to the critical infrastructure.
Further, California residents may leave their residence to perform any of the following activities/work as defined by the DHS Critical Infrastructure Section, "Essential Infrastructure Workers."
Below are excerpts of DHS Critical Infrastructure Section that clearly match Weber's core business:
Chemical Sector: Businesses that manufacture, store, use, and transport
Commercial Facilities Sector: Businesses Offices and mixed facilities that allow for storage.
Food & Agricultural Sector: Businesses that offer transportation of products.
Transportation Sector: Businesses that offer deliveries of letters and packages each day and includes large integrated carriers, regional and local courier services, mail services, mail management firms, and chartered and delivery services.
We continue to carefully follow CDC's health-related preventative recommendations. Our employee's safety remains our top priority.
At the same time, Weber will continue to operate at every facility, in order to distribute the products that our clients entrust to us to continue through the United States supply chain.
Weber is committed to assuring that the many products that we distribute which are deemed essential to the well-being of Americans will continue to reach grocery stores, retailers and essential manufacturers to the best of our ability.
We will continue to monitor the COVID-19 (Coronavirus) as it affects our operation and will regularly communicate updates of any changes further affecting our day-to-day operations.
Thank you,
Robert E Lilja
Chief Operating Officer
update 3/14/20
COVID-19 (Coronavirus and Supply Chain Risk)
Our clients have been reaching out to us asking about how this virus outbreak may affect their supply chains and their ability to service their customers. Weber Logistics has been taking steps to help mitigate that impact and keep our employees, customers, and business partners safe and healthy.
We have created this document to provide transparency to our customers, to help them understand our thinking on the risks and to invite our customers' feedback on other ideas.
Obviously, this is an evolving situation and we will continue to monitor and provide updates as our processes evolve.
---
Weber Logistics Preventive Measures
Employee Health
We have adopted the most updated recommendations from the Centers for Disease Control including:
Conducting daily deep-clean (twice a day), specifically areas that are frequently touched or where employees/people congregate. We have provided facility management with a detailed Virus Prevention Daily Cleaning Checklist.
Following proper hand hygiene. Regularly and thoroughly (for at least 20 seconds) wash your hands with soap and water.
Avoiding touching areas such as your face, nose and eyes with your hands.
Asking any employee who is sick to stay at home.
Asking employees to self-quarantine if they believe they have been exposed.
Following proper Cough/Sneezing etiquette: Cover mouth and nose with tissue paper when sneezing or coughing, then wash your hands thoroughly or use hand sanitizer.
We are also deploying additional signage in all sites to encourage good health practices. For the foreseeable future, we will be releasing Employee Health & Safety alerts at least once per week throughout the crisis to keep the health message in front of employees.
Leadership Training
We are planning a brief training topic for all leaders on the workplace safety impact of the coronavirus and that training will be recorded and provided to all leaders on all shifts.
Business Travel
We have canceled our participation in industry gatherings to avoid the risk of exposure.
We are limiting corporate travel to that which is absolutely essential, and encouraging all employees to eliminate or restrict personal travel that is not essential.
For those employees who are traveling, we are reinforcing the commonsense health and hygiene recommendations including:

Avoid crowds as much as possible
Spend 30 minutes when checking into a hotel and wipe down hard surfaces in the room – while scientists tell us that the virus only lives approximately 10 hours on hard surfaces, such a decontamination routine has no downside.
Wipe down hand rests surfaces in your rental car.
We know that travelers can be vectors for infection, and we are committed to reducing and mitigating those risks.
Janitorial Services
We have instructed our cleaning staff to use disinfectants on all hard surfaces in addition to our normal cleaning processes, and have increased the number of daily cleanings to every site. We have also increased the number of areas and contact points needed for cleaning and to include most often those which are frequently touched (e.g. door handles, water handles, lift truck steering devices, tractor-trailer cabs, etc.)
Business Contingency
Facility Staffing
We have well-established relationships with temporary staffing agencies in Northern and Southern California. We have established procedures for ramping up the use of temporary employees for other reasons (e.g. staffing shortages, increased volume, etc.) when necessary. While we don't view temporary staffing as a permanent solution, we believe we can bring employees in from these agencies to supplement staffing in the event a site is significantly impacted by high absence rates.
Leadership
We operate over 12 logistics sites in Northern and Southern California. In the event we have high absence rates in multiple sites, we are prepared to deploy leaders from throughout our management staff ranks to support operational demands.
Remote Support
In the event of a severe outbreak at a particular site, we will also move some support staff from the site and allow them to work remotely.
---
Other Considerations
We assess upstream supply chain risks to be far more significant to business continuity. Particularly, spikes in infection rates in developing countries, where much of our clients' manufacturing occurs and a less robust health care system exists, may impact mortality rates. If the infection and fatality rates increase significantly, and supply chains in Southeast Asia or elsewhere are further disrupted, we could see inbound goods again diminish.
In addition, for some of our customers, ocean ports can be a choke point for inbound goods (e.g., a high incidence of illness at Los Angeles port could effectively shut down 30% of ocean-going freight). Therefore, we suggest that all clients assess their inventory positions and consider building up more inventory on the US side. We are prepared to work with clients who need additional space for storage, including finding short term space or working with other 3PL partners to help our clients reach their business objectives and mitigate their risks.
---
Additional Information
For those seeking more information on COVID-19, our insurance provider has supplied the following documents. Please be aware that many of the details of these within attachments may be immediately obsolete due to the ever changing nature of the statistics surrounding the virus.
https://www.cdc.gov/coronavirus/2019-ncov/downloads/sick-with-2019-nCoV-fact-sheet.pdf
https://www.cdc.gov/coronavirus/2019-ncov/downloads/stop-the-spread-of-germs.pdf
https://www.cdc.gov/coronavirus/2019-ncov/downloads/2019-ncov-factsheet.pdf
Weber is carefully monitoring government and healthcare guidelines to assure that we first protect our employees and the public, while remaining committed to serving our valued clients to the best of our ability. If you have questions or comments, please feel free to reach out to our offices. We appreciate your thoughts and support.
Thank you,
Robert E Lilja
Chief Operating Officer