Chemical Warehousing and Transportation Services in California and the Western U.S.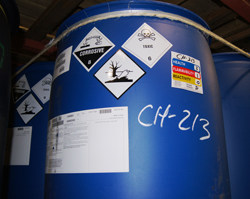 Storing, handling and delivering chemical products are highly regulated activities reserved for trained, experienced professionals. Entrust your chemical inventory to the Southern California leaders in chemical product distribution and logistics – Weber Logistics. Chemical logistics has been a strategic company focus since 1970. Dozens of chemical companies rely on Weber for safe, compliant hazardous material storage and the logistics and distribution of flammables, corrosives, oxidizers, gases, and other materials such as powder coatings and non-regulated material.
Advantages of Weber's Chemical Warehousing and Logistics Services
Compliant operations. Weber SOPs for chemical storage and handling comply with stringent regulatory requirements, so you're always "audit ready."
Lower costs. Share overhead costs with Weber's many chemical industry customers.
Increase customer satisfaction. Put inventory closer to your western U.S. customers for fast delivery or same-day pick-up at the facility. We can also provide same-day service to Mexico maquiladoras.
Southern California Chemical Warehouse
300,000-sq-ft warehouse with 13 different storage rooms to meet your exact requirements for temperature range, fire prevention, and security
Segregated H2, H3, H7 and S2 occupancy areas
Storage capabilities include drums, totes, pallets, bags, cylinders, pails and cases
Temperature-controlled flammable storage (45°F - 55°F) (65°F - 75°F) Heated rooms (75°F - 90°F)
Chemical Logistics Professionals
Full-time compliance officer for quality – environmental, health and safety
Average staff tenure of 14 years
Ongoing compliance training: IMDG, IATA, CADOT, OSHA, DHS
Systems and Processes for Chemical Logistics
Inventory managed to your exact requirements, including FIFO/FEFO and lot control
Online inventory visibility that is real-time and secure
Management of min/max levels by SKU, with automated replenishment notifications
Chemical Warehousing and Transportation Services
We integrate warehousing and transportation services to maintain the integrity of your product throughout the distribution cycle. This single-source capability reduces handling, risk and overall costs.
Temperature-controlled warehousing. Reduce risk, conserve your capital, and increase product shelf life by distributing goods from Weber's temperature-controlled chemical storage warehouse. We can segregate by product type and by temperature range.
Transport of hazardous and non-hazardous materials. Ship products safely and reliably on trucks designed for chemical transport. Local and long-haul deliveries on all modes using a combination of Weber's fleet and hazmat-certified carrier partners.
Pick and pack services. Improve service with same-day fulfillment of small volume orders. Value-added services also include packaging and labeling to IATA standards for air shipments of dangerous goods.
Cross-docking for imports. Speed delivery of import freight to its final destination. Weber can pick up your containers from the port, offload the product at our chemical warehouse, and cross dock for immediate shipment to inland locations.
Manufacturing support. For many chemical customers, we provide JIT delivery of raw materials to local manufacturers.
HAZMAT Compliance
Our team of on-site HAZMAT specialists are responsible for:
HAZMAT training
Compliance with DOT shipping regulations
Compliance with NFPA, UFC and OSHA standards
SARA reporting
MSDS training and reporting
Following the protocol of the Chemical Manufacturers Association (CMA)
Need a California chemical warehouse or chemical transportation logistics services?
Contact us today for a detailed discussion of your requirements.