Over-the-road trucking has had its challenges in recent years, thanks to driver shortages, HOS regulations, rising fuel costs and capacity shortages. During that time, railroads have been improving tracks and facilities, as well as service offerings, to meet shippers' needs. That has led to a steady increase in the use of intermodal services.
The chart below from IANA's Intermodal Market Trends & Statistics Report shows total intermodal loadings from 2000 – 2013. While rail intermodal's percent of volume can still be measured in the low single digits compared with trucking, it is growing at a nice pace.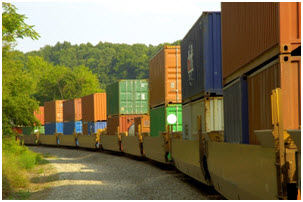 Companies are letting go of negative perceptions that led them to avoid rail in the past. Let's look at some of these misperceptions.
Rail is much slower than OTR
An intermodal move is usually slower than a move by truck. But often the lower cost of intermodal shipping can be worth a day or so of extra transit time.
Rail is unreliable
Although rail delays were a genuine problem in the past, U.S. railroads today have gained a reputation for on-time performance. As a result, some of the best-known OTR carriers in the U.S. now put freight on the rails. The Container Store, a national retailer, has actually seen on-time performance increase since it started delivering to stores in certain markets via intermodal.
Freight on rail is more likely to be damaged or stolen
Containers moving on solid blocks of flatcars rarely sustain damage, especially if the freight is blocked and braced correctly.
You can't track freight while it's on the rails
Railroads generally collect location data at specific checkpoints along a route. Unless GPS units are installed on containers, they don't provide the real-time visibility that many motor carriers can. But shippers often find status information from the railroads sufficient for their needs.
Want to learn more about why companies are shifting more of their freight to intermodal? Read our Insight paper: Reduce Freight Transportation Costs with Intermodal Service.