If you're a fan of chocolate (and who isn't), chances are you're very familiar with Lindt & Sprüngli. The renowned chocolatier has been in business since 1845, serving chocolate lovers all over the globe. A few years ago, they turned to Weber Logistics to provide a variety of refrigerated transport services in a very specific part of the globe – the U.S. West Coast. We recently wrote a case study on the relationship, which we preview in this article.
Refrigerated transport services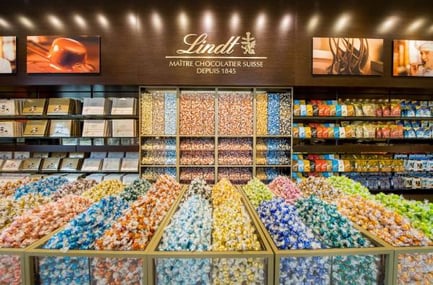 Lindt & Sprüngli (North America), Inc. (LSNA) – also home to such popular brands as Russell Stover Candies and longtime West Coast favorite Ghirardelli Chocolate – has relied on Weber to tackle two distinct challenges related to West Coast distribution.
First, LSNA required a diverse range of logistics transportation services. In order to reach a variety of West Coast customers in a timely and cost-effective fashion, LSNA relies on a range of trucking operations from full truckload to pool distribution. All of which require refrigerated transportation.
Weber proved to be the perfect match since it is an asset-based transportation provider with a strong history of serving confectionery companies on the West Coast – including subsidiary brands of LSNA. To meet LSNA's needs, Weber provides the following temp-controlled transportation services.
Full truckload
Less-than-truckload
Truckload stop-offs
Pool distribution
To employ even greater flexibility into the mix, Weber also provides LSNA with drop trailer services. Weber will drop a trailer at LSNA's major California DC and allow LSNA to load on its own schedule. When the load is ready, Weber comes back to receive the trailer.
With the required range of services covered, LSNA also needed a logistics partner that could handle diverse final-mile deliveries. While most transportation providers will have little problem transporting product from a warehouse to a retailer DC, many of LSNA's customers are located in unique places that are much more challenging to reach with a truck and temp-controlled trailer. Such challenging locales include Disneyland, the Las Vegas Strip, and downtown San Francisco.
Weber's asset-based fleet and company drivers have proven to be more than up to the task. Weber's drivers are just as adept at making deliveries in these locations as they are at large retail and grocery DCs – all with the professionalism and level of service demanded by leading manufacturers.
All told, Weber's transportation services support LSNA with deliveries across California, Washington, Nevada, Arizona and Oregon – hauling over 750,000 pounds of product per month.
To learn more about the Weber/LSNA relationship, access the full case study below.