There is no shortage of third-party logistics providers (3PLs) that claim chemical logistics expertise and have space for your hazardous and non-hazardous chemicals. But, separating the seasoned pros from the less qualified operations can be difficult. In this post, we identify 5 tips to help you find the right 3PL provider for safe and reliable chemical warehousing solutions.
1. Check the provider's reputation with objective sources.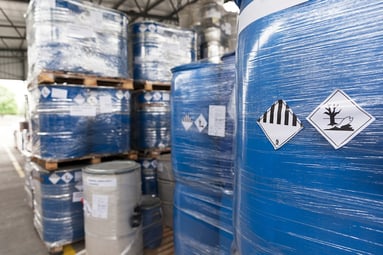 While a company's marketing claims can go a long way in putting your mind at ease, you want to dig a little deeper and see what objective sources have to say about the provider. For chemical warehousing, a good place to start can be the local fire departments with jurisdiction over the provider's warehouses. These departments will be aware of the company's ability to manage health, safety, security and environmental requirements for the storage of chemicals. Ask the provider if it's possible to talk to current or past customers. Call and ask for a candid assessment.
2.
Look for experience handing the class of chemicals you market.
3PLs that handle one class of chemicals are not necessarily qualified to handle others. You need to make sure that your chosen 3PL has experience handling your specific class of chemicals – and is certified to do so.
Some 3PLs are certified to house multiple chemicals simultaneously, provided that stringent infrastructure requirements are met. In general, different classes of chemicals must be stored independently of one another in clearly-marked, segregated areas. These areas must be separated by approved, non-combustible partitions and/or by a distance of 20 feet or greater.
3. Dig into the experience of key personnel.
When you entrust your chemical warehouse operation to a 3PL, you're entrusting that operation to the 3PL's people as much as its facilities and equipment. So, get to know them ahead of time. These are the people that should be advising you – not the other way around – on regulations, paperwork and operating procedures.
Ask about the chemical logistics experience of those supervising and operating your business.
Ask about training programs. Are they robust or is the 3PL simply meeting minimum requirements?
Ask about warehouse insurance coverage and liability.
If transportation management is part of the solution, make sure key operating staff are well-versed on the regulatory requirements for packing and shipping for all relevant modes of transport – IATA (air), IMDG (sea) or DOT (over the road).
4. Find out how active the provider is in industry groups.
Industry group membership/affiliation is generally more important in chemical logistics than it is within other industries. Environmental and safety regulations are constantly changing, and providers need to remain active in industry groups to stay abreast of these changes. If they are not, it's fair to question their commitment to serving chemical industry customers. The Chemical Council of the International Warehouse Logistics Association, the National Association of Chemical Distributors, and the Warehousing Education and Research Council are just a few of the organizations that provide education on chemical storage and transportation practices.
5. Look for a provider of integrated logistics services.
You'll find many 3PL candidates for chemical warehousing solutions and many for last-mile transportation. But the pool of chemical logistics providers that can integrate these services with uninterrupted visibility to products is much smaller. The advantages of integrating logistics services with one provider include:
Reducing the risk of service issues since one provider controls all components of the distribution cycle, from warehousing to pick-up to final delivery.
Maintaining the integrity of the product throughout the distribution cycle, including adherence to temperature control requirements.
Creating a closed loop supply chain by bringing reusable containers back to the warehouse after deliveries.
Easing your administrative burden by having a single point of contact.
Asset-based transportation carriers, like Weber Logistics, can take these advantages a step further as they are better equipped to offer reliable, compliant capacity – particularly when spot market freight capacity is constrained, as it is now. 3PLs focused on both chemical storage and transportation are likely to have federally required Hazardous Materials Safety Permits (HMSP, or "HM permit") to transport certain types of chemicals.
Weber Logistics for West Coast Chemical Storage
Chemical warehousing solutions have been a strategic company focus for Weber since 1970. Dozens of chemical companies rely on Weber for safe, compliant hazardous material storage as well as HM-permitted and asset-based transportation of flammables, corrosives gases, and other materials. To learn more about our chemical logistics capabilities, contact Weber today.