Handing all or part of your food distribution operation over to a third-party logistics (3PL) provider may seem like a leap of faith. After all, you're relying on the 3PL's ability to maintain food quality throughout the distribution cycle and to keep your company compliant with FDA and other requirements. But with the proper due diligence, you can be confident in a provider's ability to drive superior performance in all areas, from compliance and safety to operational execution and cost control.
Here are a few key questions you should ask as part of your qualification process for food distribution partners.
1. Can the 3PL monitor and maintain temperature integrity throughout the supply chain?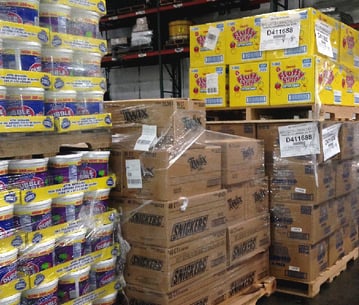 For temperature-sensitive products, a few degrees might spell the difference between a trip to the market and a trip to the landfill. 3PLs who handle food distribution logistics will deploy temperature-monitoring technology to monitor the environment through all phases of the supply chain – in the warehouse, on the dock and on the road. The information allows 3PLs to make modifications, if necessary, to bring the temperature back to spec. The feed should also be available wirelessly to you and your team to enable remote monitoring.
Importantly, the proactive management of temperature integrity is no longer just sound business practice, it's the law. The Food Safety Modernization Act (FSMA) focuses on the prevention of foodborne illness and holds shippers largely responsible for defining what constitutes safe practices for food handling and transportation. These practices must be clearly defined in a Food Safety Plan. Adherence to this Plan – and the temperature requirements within (if applicable) – is an important responsibility of all members of the food supply chain.
So, how do you tell if a 3PL really has what it takes to maintain temperature integrity?
Tour the warehouse. Temperature monitors should be visible in all locations, with separate units at the top and bottom of multi-level racking.
Ask to see logs that show temperature readings over time.
Ask how reefer trailers are monitored during temperature-controlled trucking. At the very least, they should carry digital thermostats that are easily visible to the driver.
What's the backup plan? If the cooling or heating system goes down, how will the company maintain the right temperature in each zone until it's repaired?
Learn more about these questions – and see additional ones – in Weber's free eBook: Choosing a 3PL for Food Distribution: 5 Critical Areas to Evaluate
2. Can the 3PL meet all your customers' requirements for code date compliance, FIFO and other picking rules?
While all your customers want to maximize product shelf life, each of them has different ideas about how to achieve that goal. Code date, expiration date, best used by date, FIFO, FEFO, LIFO – any of them might apply to a specific customer. And the rules might be different for different SKUs. Get the details wrong, and you could get stuck with product your customers refuse to take.
Your food distribution logistics partner should have a sophisticated WMS that supports a broad range of stock rotation protocols. The system should be able to produce snapshots of remaining shelf life for any products in your warehouse, alert you to product that is approaching its expiration date, tell you which product has the oldest code dates, and more. Your partner should also be able to parse out shelf life requirements that are unique to specific consignees or SKUs, gracefully dealing with any curveball a customer throws your way.
How do you tell if a 3PL really has what it takes to comply with complex inventory management rules?
Ask how many of the 3PL's customers require picking by FIFO, FEFO and other principles.
Ask which ones have varying rules based on consignee, export requirements or other needs.
Call some of those customers and ask how well the 3PL meets their criteria inventory management.
Ask to see sample orders that demonstrate how the WMS tracks particular code dates or other indicators.
3. Can the 3PL help you reduce supply chain costs?
Marketing food products is a low-margin business. To maximize profit, you need to minimize costs, and that means making your operation as lean and efficient as possible. The ultimate financial measure of food distribution logistics efficiency is the cost of moving each case of product to your customer. Your 3PL should always be looking to keep this cost as low as possible. Examples of proactive cost-saving strategies include:
Pool distribution. 3PLs with many grocery product customers can combine your freight with that of other companies to reduce retail delivery costs.
Integrated storage and delivery. Time is money in the supply chain, and 3PLs that combine warehousing services with their own delivery fleet avoid the time and cost of coordinating with outside carriers.
Intermodal service. Look for a food distribution logistics provider that has experience coordinating intermodal service – a strategy that can cut freight costs by 15-40%.
How do you tell if a 3PL really has what it takes to keep per-case costs down?
Investigate the WMS. A full-featured system does a better job of managing productivity.
Ask what investments the company has made to lower energy costs.
Ask how the company measures labor productivity. If there are no ready metrics they can share, that's a bad sign.
Ask the provider to give you five proactive steps the company has taken to drive down the cost-per-case for its customers. If they say "We'll get back to you," it could be that continuous improvement is not embedded the culture.
Remember that the 3PL you select to handle food distribution logistics should truly think and act as an extension of your operation. You need to be profitable, compliant and safe, so your 3PL needs to be profitable, compliant, and safe on your behalf. The right 3PL can excel in all these areas, but – to find the right one – you need to make sure you ask the right questions.