Food manufacturers who sell through traditional food distribution companies must absorb a significant price mark-up on route to the retailer, raising their prices on the shelf. Some food companies could benefit from using a third party logistics provider (3PL) that specializes in storage and distribution of food products direct to grocery chains.
Use of a 3PL avoids distributor markups, enables a direct relationship with retailers, and capitalizes on 3PLs' strong capabilities in inventory management and cold chain management.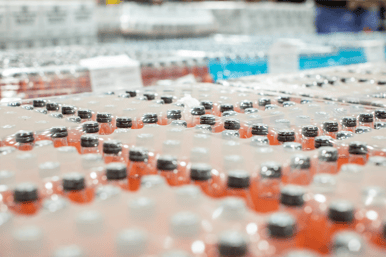 Food distributors, of course, play a critical role in the food supply chain. If your food line is not well known and you are trying to grow your brands, distributors have existing relationships with grocery chains and can get behind your products to grow sales. Distributors have sales teams that remove the cost and responsibility of sales management from your company. It's one of the things that you will pay for with the price mark-up.
But for brands that have gained traction in the market and have chains that want the products, 3PLs could be an alternate way to get products to market. From an operations perspective, 3PLs offer many of the capabilities that traditional food distribution companies do:
lot code and date management
co-loading of freight with other food shippers to reduce freight costs (many temperature-controlled trucking companies, like Weber Logistics, have their own fleets and deliver daily to major retail chains)
LTL deliveries
But 3PLs don't offer key marketing advantages offered by distributors:
a sales force
promotional advertising
trade show participation to expose new lines
If your brand has grown and you have developed your own internal organization to perform these sales and marketing tasks, a 3PL relationship gives you strong logistical and physical food distribution capabilities, while avoiding the food distributor's mark-up and allowing you to forge a direct relationship with retailers. Read our blog on How to Choose the Right Food Logistics 3PL.