If you have retail customers, you are likely familiar with EDI. From shipping notices and order updates to purchase orders and invoices, EDI remains a workhorse of modern supply chain transactions – including those in eCommerce. In this article, we take a closer look at EDI in logistics, including its ramifications on vendor compliance.
What is EDI in logistics?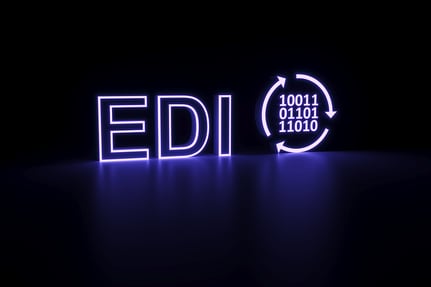 Electronic Data Interchange (EDI) is a data exchange protocol that eliminates humans from the process. Pre-EDI, information was commonly retrieved from one system, manually recorded on a spreadsheet or paper, sent to the necessary receiver of this information, and then manually entered into the receiver system. This was not only a time-consuming process, but one that was prone to mistakes caused by human error.
With EDI, the sender's operating software turns information into digital data, and sends it to another computer that correctly interprets and imports that data into its own different unique operating software.
True EDI files adhere to either ANSI ASC X12 or EDIFACT standards – the "language" used to facilitate EDI communication.
EDI transactions can occur directly (e.g., client to 3PL) via a protocol such as FTP, SFTP or AS2 – or through any EDI Value Added Network (VAN; e.g., SPS Commerce, 1EDI Source, Boomi).
Use of EDI tightly and seamlessly integrates partners, allowing more transparency, nearly real-time communication, faster processing, better collaboration, and the ability to respond quickly to business demands while driving quicker order-to-cash cycles.
In the logistics industry, many types of EDI documents (or "transactions") signify an inbound or outbound activity. As an example, Weber Logistics' communication with our partners encompasses over 186 variations of 25 different transaction sets. Common transactions include those related to orders, shipment confirmations, receipts, receipt confirmations, inventory adjustments, and stock statuses – as well as retailer advance shipment notifications (ASN), which are so critical in today's environment. Weber also supports transportation transactions for load tender, accept, status updates, and invoicing.
EDI and vendor compliance
EDI plays a major role in vendor compliance as just about all major retailers require EDI transactions. For example, they will send out purchase orders and expect to receive EDI ASNs (transaction # 856) in return. Furthermore, they will want the ASN well in advance of the products' arrival – typically within two hours of the shipment leaving the sender's dock.
The same retailer requirements apply to dropshipping operations. You will need to notify the retailer, via EDI, of shipments to customers in a timely fashion.
In addition to timeliness, accuracy is a major concern among retailers. You are required to accurately communicate your exact shipment details via EDI, including product items and quantities.
So, whether its timeliness or accuracy, your retail customers' routing guides will likely have several line items related to EDI. You will need to be proficient in complying with these requirements – or face the consequences in the form of costly chargebacks.
For example, if your EDI communications show that you did not ship your order on time (and thus miss the no-later-than shipping date) or you neglected to include an ordered product in the shipment, you'll get hit with a chargeback.
Or, let's say you did ship your order in time but, for one reason or another, the ASN shipping notification wasn't triggered to the retailer. What happens then is that the retailer will receive an order but have no record of the order being shipped. The retailer now receives and processes the order manually, which – you guessed it – will lead to a chargeback penalty.
Barriers to EDI adoption in logistics
The biggest hurdle that many companies – especially smaller ones – face in adopting EDI and/or utilizing it effectively is the lack of in-house IT resources. Many companies simply don't have the staff, the experience, or the expertise to facilitate EDI communications with a variety of supply chain partners.
Fortunately, there are logistics providers that can bridge the gap and help your operation overcome such challenges. At Weber, for instance, we have an in-house IT team that specializes in EDI and facilitating electronic communications between a wide variety of systems between you, your vendors and your customers. We can help lead you through all EDI setup involving both our systems and yours, and can recommend highly experienced 3rd party VAN providers, when necessary.
EDI is certainly not new technology, but it's still a bit daunting to some. Sometimes it's helpful to talk to a true expert about your current needs, vendor requirements and desired capabilities. Weber Logistics is happy to help. Contact us today to get your operation on the right path.