AIB International works with companies to elevate their food safety and production processing capability. If you look through the current AIB standards for food distribution centers, they seem quite comprehensive. If your food-grade warehouse meets all or most of the standards, you will receive a relatively high score. During inspections, each infraction will result in a 5 point reduction on your score. So the question is, is it enough just to keep your superior rating with AIB?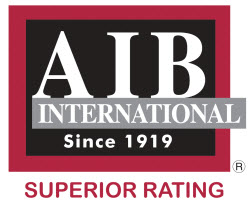 The AIB Consolidated Standards for Inspection entail the following:

• Operational Methods and Personnel Practices
• Maintenance for Food Safety
• Cleaning Practices
• Integrated Pest Management
• Adequacy of Prerequisite and Food Safety Programs

Routines to meet these standards are set on a weekly, monthly or quarterly basis to ensure compliance. Records are maintained and are made available when the inspection is carried out.
All food-grade warehouses would be pleased to achieve the highest AIB rating of 'superior.' But following a textbook approach to achieve a certain score isn't enough. There are things you need to do on a daily basis rather than waiting to meet a scheduled monthly maintenance mandate – a "check the box" kind of approach.
Neat and Tidy
Do people who keep a clean house refer to a manual? No. If they see dirt or see something out of place, they clean it up. It is the same with warehousing. Staff must take the time each day to ensure the little things are taken care of such as:
• Removing debris from the aisles, such as paper or wood
• Cleaning surfaces after product is removed from a particular location
• Mopping up spills that may linger and potentially cause contamination
The sanitation process should not be focused on passing an audit/inspection; rather, it should be ingrained in the daily culture.
Hospital Clean
If you remember your last visit to a hospital, you may have taken note of the sanitary conditions in all departments. A food warehouse shouldn't be any different. Food handling is a critical function and proper procedures and cleanliness are paramount to prevent cross contamination or even a food recall, which can cost millions of dollars and a lot of bad publicity.
What about an unexpected customer visit to your food grade warehouse? If your warehouse associates are cleaning proactively, you needn't fear a negative perception from your customer. Plus, each day you are enhancing your progress for your weekly, monthly and quarterly mandates, as prescribed by the AIB.
Weber Logistics believes that putting processes in place that go beyond the AIB standards is just good business sense. For nearly a century we have been operating food-grade warehouses in California, Nevada, Arizona and the US West Coast. To learn more about our attention to detail, contact us at 855-GO-WEBER (469-3237) for all of your 3PL needs.