Air freight shipping. In the eCommerce world, it's a major component of everyday business. For freight shippers outside of eCommerce, however, it's far less common than truck, rail, and ocean transport.
Some freight shippers rely on it daily, while others never even consider air as a transportation option. Depending on what you're shipping and how fast it needs to get there, air transport could be a viable – if only occasionally-used – option.
Air Shipping: Speed vs Cost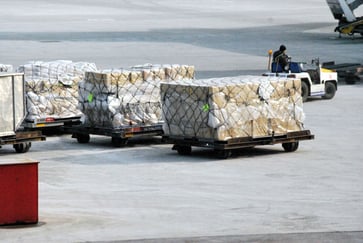 The major advantage of air freight shipping is speed. Once freight arrives at an airport, it can generally be anywhere in the world within 24 hours. Compare that to a China-to-LA ocean trip of 14 to 18 days.
With great speed comes greater costs. Air freight typically costs 400% to 700% more per pound than ocean transport. Because of this, air transport is typically reserved (again, outside of eCommerce) for products that are very time-sensitive and/or have a value that warrants the higher cost. Common examples of freight shipped through the air include high-end electronics, jewelry, high fashion, and drug and medicine products.
Because of the high cost, many companies use air freight only sporadically as part of a multi-mode solution. For example, a manufacturer may ship a portion of its cargo via air to satisfy any immediate customer needs. With the emergency orders satisfied, the manufacturer then ships the rest of its freight by a more cost-effective method, such as ocean or rail.
When Does Air Freight Shipping Make Sense?
In many cases, companies simply can't afford to ignore air freight as an option. That happens when the cost of lost sales greatly exceeds the added freight cost. For instance:
When the hot-selling bathing suit gets delayed and is scheduled to arrive after the main selling season
When lack of component parts threatens to halt manufacturing production
When the new, and very expensive, wonder drug is in short supply at the hospital
Typically, the cost benefit is pretty obvious. Still, many companies have formal approval processes for air freight shipments. Mostly, this is done to curb undisciplined behavior outside the logistics group, such as the sales person who requests "expedited routing" for a non-essential shipment because he wants to please a new overseas customer.
Is Air Freight Sustainable?
One shipping factor that cannot be ignored these days is sustainability. Compared with ocean transport, a truck generates 10 times more and air transportation generates 47 times more greenhouse gas emissions per ton mile, according to Operations Rules, a book by MIT's David Simchi-Levi. For that reason, companies wanting to maintain a strong "green brand" reputation will closely monitor their percent of air freight shipments.
The Logistics of Airport Freight
While shipping via air and ocean may be worlds apart in terms of speed and costs, the related port logistics of each method are largely similar. You're still dealing with containers, "free time" and related charges, and the logistics of getting your containers to and from the appropriate port terminal (in this case, the appropriate airport terminal). With air freight, however, your transportation partner can often unload outside the airport, without the need for the driver to undergo stringent screening measures that occur within it.
One logistical difference is the cost of drayage, which is often substantially higher with air freight. This is mainly due to short-notice or emergency timetables that logistics companies are typically given to work with for air freight shipping services.
The Role of the 3PL in Air Freight Shipping
As with seaports, logistics providers are experts in managing air freight-centric supply chains, where speed is critical. Many 3PLs, like Weber Logistics, provide drayage and warehousing as part of one integrated service. This allows for one company and one system to coordinate your container's movements from pick up to delivery and back.
For air freight shipments coming into – or leaving from – the West Coast, Weber can streamline the process from soup to nuts, while identifying opportunities for cost savings, where possible. Contact Weber today to learn how your operation can benefit from our port-related capabilities, whether sea or air.