Too slow. Unreliable. Risk of damage. These were some of the reasons transportation managers once gave for avoiding rail freight. But many companies are now making intermodal transportation a key element of their freight strategy. Should you?
The benefits of intermodal include lower shipping costs and reduced carbon emissions.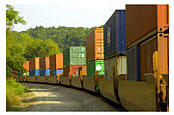 Transporting a medium-to long-distance load via rail costs 15 to 40 percent less than moving the same load over the road (OTR). And studies show that shipping by rail is three to four times more fuel-efficient – and therefore more environmentally friendly – than road freight.
A recent Weber INSIGHT paper outlines how to reduce transportation costs using intermodal transportation and looks at why some shippers are still reluctant to put freight on the rails.
Here are some common misperceptions about intermodal transportation that persist.
· Rail is much slower than OTR. Without a doubt, an intermodal move is usually slower than one done over the road. But often the lower cost of intermodal transportation can be worth a day or so of extra transit time. And the railroads have developed expedited service offerings to accommodate the most urgent freight.
· Rail is unreliable. Although rail delays were a genuine problem in the past, U.S. railroads today have gained a reputation for on-time performance. As a result, some of the best-known OTR carriers in the U.S. now put freight on the rails. For example, intermodal moves represented 10 to 12 percent of FedEx Freight's total linehaul mileage in 2012.
· Rail freight is more likely to be damaged or stolen. Containers moving on solid blocks of flatcars rarely sustain damage, especially if the freight is blocked and braced correctly. A container car also provides a security advantage, especially for the bottom box in a double stack. The doors of that container are locked well into the rail car unit, so it's far more secure than an over-the-road truck just moving down the highway.
You can't track freight while it's on the rail. Railroads generally collect location data at specific checkpoints along a route. Unless they install GPS units on containers, they don't provide the real-time visibility that many motor carriers can. But shippers often find status information from the railroads sufficient to their needs. Class I railroads offer technology for tracking shipments, as do many third-party providers of intermodal transportation services. Visibility tools from 3PLs integrate data from the railroads with tracking information from other sources, letting a shipper monitor a load seamlessly from pickup to delivery.
Today, the benefits of intermodal are significant enough that companies should at least explore greater use of rail. By making the switch from road freight to intermodal transportation for a portion of your volume, you can achieve significant savings and provide a nice boost to your company's sustainability objectives.

Interested in learing more about intermodal solutions from Weber Logistics?