Warehousing costs are sky high at the moment and aren't likely to decline anytime soon. Companies will need to address this added cost burden, but how? In this article, we'll examine the current state of warehousing costs in the US and explain how you can best navigate the current environment.
Why have warehouse costs increased?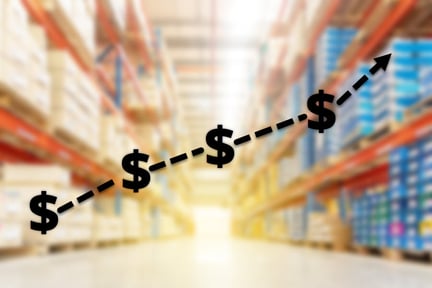 The short answer behind the increase in warehouse costs is basic supply and demand. The demand for warehousing space is historically high across the country, while the supply (i.e., vacancy) is historically low. This scarcity has led to drastic rate increases as companies compete for the little space available.
So, the more appropriate question is: what has caused this scarcity? Among the many factors involved in the current supply chain chaos, the following have directly led to decreased space.
Rise of eCommerce. As the pandemic and related lockdowns led to more people staying home, eCommerce sales skyrocketed. Companies needed more warehouse space for more product, and also required larger footprints to support space-intensive pick and pack operations. eCommerce requires more than 3x the logistics space of brick-and-mortar sales, according to Prologis.
Companies are holding onto more inventory. The uncertainty surrounding imported goods has caused companies to stockpile inventory to weather future supply chain uncertainty. This extra inventory takes more space. Conversely, there are also companies that would love nothing more than to get inventory out of their warehouses, but supply chain issues downstream (e.g., truck driver shortages) and lack of space have continued to make that difficult, if not impossible, at times.
Companies adding regional distribution centers. Due to the previous two factors, companies (especially larger ones) are adding new locations across the country to better support their evolving customer needs and the changing supply chain landscape. This approach enables companies to locate their product closer to the end consumer for faster speed and, in many cases, a better overall real estate and labor cost basis. Lastly, this approach also helps companies offset some of the pain associated with increasing transportation rates as a more diversified warehouse network can reduce both inbound and outbound transportation required to reach customers in peak periods.
California warehousing costs drive companies farther from the ports
In Southern California, as in every major US port market, the conventional balancing act regarding warehouse costs has always been that you pay more for warehousing and less for drayage to be close to the Ports of L.A. and Long Beach, and more for drayage and less for warehousing if further from the Ports.
This is still the case, but more and more companies are being driven towards the latter option. For one, there simply isn't much (if any) warehouse space close to the ports, and any space that is available is often prohibitively expensive. But in the Inland Empire (IE) – which is anywhere from 50-80 miles east of the ports – there is comparatively more space (though not plentiful by any stretch), and it is also brand-new with higher ceilings and larger truck yards. Of course, this space is also far more expensive than in even the recent past, but much less so than space in close proximity to the ports. By weighing these factors against each other, companies like Weber Logistics (which has recently opened large facilities in San Bernardino and Moreno Valley and has 9 DCs within the IE) are strategically investing in properties further from the Ports, even though it means a longer dray, as overall costs fall within the financial "sweet spot" for the largest segment of the shipping community.
How can you mitigate high warehouse costs?
So, placing your facilities further away from the ports – not only in California, but other major port markets like Savannah, Norfolk, and NY/NJ – is one way to mitigate rising warehousing costs. The following may also be effective.

1. Partner with a 3PL provider and lock in rates. While you may be able to find warehousing space yourself, it's an arduous task. You then still need to equip and staff the facility, which is also very challenging.


However, by partnering with a 3PL that already has space in your desired location and has demonstrated the ability to keep it staffed and deliver a high-level of service, you can save yourself innumerable headaches. You can also reduce costs. For example, a shared warehousing agreement enables you to share the 3PL's space with other companies and pay only for the space and services you require. Committing to a 3PL partner now guarantees that your inventory levels and space requirements can be met, while locking in your rates before they go up any further.

2. Lock in rates with your truckload carrier(s). While warehouse rates are only ascending, truckload spot rates are more volatile. At the time of this writing, truckload spot rates are falling. A softer market is the perfect time to partner with a carrier to lock in capacity and costs, and to reduce your overall supply chain spend.

3. Find 3PLs with strong relationships with retailer house carriers. Carriers that haul for retailers were stretched thin during the pandemic and continue to struggle to provide the necessary capacity. If you're a small to mid-size shipper, you're going to have a hard time getting the attention of these carriers to fulfill your retail orders in a timely fashion.

Your best bet is to partner with a 3PL provider that has strong relationships with retailer carriers. Such relationships often include things like standing appointments and trailer drops. While you may not have the volumes to warrant these perks, many 3PLs do. By working with one, you can incorporate your products into your 3PL's retail distribution infrastructure in order to obtain the same benefits.
High costs aren't going away
While warehousing costs will remain high for the foreseeable future, a 3PL provider can help you mitigate these costs. From the West Coast, Weber Logistics is a provider of integrated logistics services including drayage, warehousing, and transportation. Our warehousing footprint across California has more than doubled in the last two years as we continue to aggressively pursue space to better serve our customers. If you're a growing company that is looking for a 3PL provider to support that growth, contact Weber Logistics today.