When there's not enough supply of a product to meet demand in the marketplace, consumers of that product are negatively impacted until the product is available again. But, what happens when the 'supply' refers to the very people responsible for moving products through the country's supply chain?
As the economy continues to thrive, there simply aren't enough warehouse workers to fill the number of warehousing jobs available. In this article, we'll examine the current challenges associated with warehouse recruitment and give you insight into the way some third-party logistics (3PL) providers are handling the situation.
Warehouse recruitment in a "full employment" economy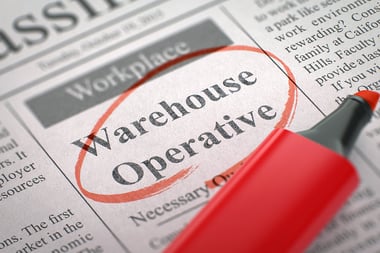 The U.S. economy currently sits at a very low 3.7 percent unemployment rate according to the Bureau of Labor Statistics. This is the lowest rate in 50 years – approaching what economists call "full employment." In a full employment economy, virtually all citizens who are willing and able to work are employed.
This is great news for workers, though challenging news for employers.
When unemployment is this low, fewer people are looking for work. Companies who are trying to hire to fill positions then have a limited pool of candidates to choose from. Of course, there are other companies that are also trying to hire from the same small pool of candidates. This competition causes companies to offer higher rates and better benefits to 'win' new associates. Companies who are unable to compete in this wage and benefit 'arms race' typically remain understaffed.
This is precisely where the warehousing industry finds itself. Complicating matters is the ever-increasing need for warehouse associates. With the rise of eCommerce, the demand for warehouse labor has increased rapidly in recent years, growing by 11 percent between 2015 and 2018.
Changing warehouse recruitment tactics
This need for warehouse labor within a full employment landscape has left companies scrambling to find workers. In addition to traditional warehouse recruitment efforts, companies may implement the following strategies.
The one strategy that nearly every warehousing company will turn to is the hiring of temporary labor. In a less-frenzied economy, temporary labor is brought on to service short-term projects. With the current climate, however, companies that are unsuccessful in hiring full-time employees will turn to temporary staffing agencies to fill in the gaps.
These staffing agencies are invaluable allies for sourcing – and vetting – qualified warehousing associates for temporary assignments. Importantly, these assignments can act as auditions. High-performing associates will often be offered full-time positions at the end of the temporary period.
Another common strategy is to recruit within other industries. HR departments of warehousing and logistics companies will often try to recruit employees within construction, manufacturing and other industries who may have skill sets comparable to those required in the warehouse.
Lastly, some less scrupulous warehousing providers will ignore or lower their traditional recruitment standards in an effort to hire anyone able to do the job. This is frankly a dangerous practice that has become too common within the current employment climate. Warehouse work is often physically demanding and requires a high degree of teamwork. If an inexperienced or unsuitable worker is thrust into that environment, he or she can become a threat to the safety of coworkers, a threat to his or her own safety, and a threat to the quality and integrity of products stored within the warehouse.
A smarter approach to warehouse recruitment
Like many 3PLs, Weber Logistics is navigating the challenges associated with the current warehouse labor shortage. How have we changed our approach to warehouse labor management? The answer is: we haven't. We continue to believe that hiring the right employee is always more important than hiring an employee.
Our processes will always include previous employment checks, background checks and drug screenings. We also limit our work with temporary staffing agencies to those that have a vetting process fully aligned with our company culture. And, once on the job, the training period never really ends.
Yes, all these things take time. But, though it may seem counterintuitive, this more thorough approach actually softens the blow when a labor shortage does arise. Why? Because when you hire the right employees that are a good fit for your culture, you have lower associate turnover. Companies with lower turnover, then, can focus on hiring new employees as they are needed instead of worrying about continually replacing employees and hiring for new positions.
Recruitment as a factor in your warehousing partnerships
If your business is looking for warehousing services in a full employment economy, it is important that you understand your provider's approach to recruitment. If your provider takes a get-anyone-in-the-door-quickly approach, you should understand that there are inherent risks related to employee and product safety. Conversely, warehousing providers that maintain the same high recruitment standards for warehouse associates, regardless of the economy, are likely to take the same degree of care with your products.