No matter what type of trucking services you're looking for, you already know that capacity is hard to come by. Capacity from LTL companies is no exception. In this article, we'll look at the current state of LTL trucking and share 5 tips for finding LTL capacity.
Current state of LTL trucking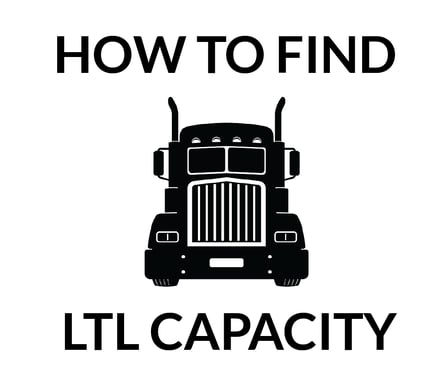 There are many reasons why LTL capacity remains extremely tight. The most obvious one continues to the driver shortage, which is a major supply chain disruption. Demand for driver services still dwarfs driver availability. This is true across all modes of trucking, and there is no visible light at the end of the tunnel.
There is also the increase in popularity of LTL itself. Truckload rates have continued to skyrocket. This has caused craftier shippers to try to save money by breaking freight into multiple LTL shipments instead of one more expensive truckload.
This is good news for LTL companies but not always good news for shippers. LTL carriers have more loads than they can handle, with freight seemingly falling into their trucks. Some LTL companies have gone so far as to lay off their Sales teams as there is no need to look for loads.
The downside for shippers comes in the form of missed appointments. Many LTL companies are taking on so many loads that they can't get to them all. Some carriers will also pick up more freight than originally scheduled, thereby filling up trailers more quickly.
What happens is that appointments get missed. The missed appointments for one day then receive priority the next day. And then that day's missed appointments become prioritized the next day. And so on. So, if you call for a pickup tomorrow, you may already be on the following day's list.
How to find capacity with LTL companies
The following tips can help you secure capacity for LTL shipments and improve your odds of those shipments being on schedule.

1. Deal with reputable carriers. Rates are always important, but quality service is vital. When you partner with an LTL carrier simply because it has the lowest rates, keep in mind that many other shippers are doing the same thing. The lowest-priced carrier may be taking on more loads than it can handle, which will result in delays for your shipments.

When you deal with a more reputable, service-oriented LTL company, you may pay a little more, but you can have much more confidence in the quality of service as well as the scheduling. How do you find these quality carriers? First-hand experience, word of mouth, 3PL partner advice, public records, and customer satisfaction reports and reviews are all invaluable resources.

2. Split your LTL loads among multiple carriers. Conventional wisdom used to be that you find one preferred carrier and give them all your freight. However, now with bids, RFQs and technology advances, shippers have become savvier and can save money by breaking up the freight among multiple carriers.


There is also the fact that most LTL carriers, even larger ones, won't be able to take all your freight. This means that you'll need to rely on multiple partners out of necessity. Let's say that you have 36 pallets, and your regular, preferred carrier can take 15 of them. You will then need to find carriers to handle the remaining 19. When you already have trusted relationships with multiple providers, it's much easier to find the needed capacity when you're in a pinch to find new partners.

3. Look to smaller regional carriers to help diversify your freight. Don't forget the regional carriers. Quality regional LTL providers can offer capacity, competitive rates and exceptional levels of service. They're also less likely than bigger, national carriers to have missed appointments as their smaller service areas allow for more predictable scheduling.

4. Give your LTL companies lead time. This tip isn't as big a concern as the others on this list, but it can help. If you call your carrier a few days in advance with your load information, it may or may not help solidify your appointment for your chosen day and time. The reason is that most LTL carriers plan their loads on a day-by-day basis. In setting up each day's schedule, they first need to account for the previous day's missed appointments which will bump everything else on the schedule back. However, for regional carriers and providers with more predictable schedules, such a 'heads up' can be mutually beneficial for you and your provider.

5. Consider drop trailer agreements. The best way to secure LTL capacity is to simply make life easier for your carrier(s). Few things make life easier than drop trailer agreements. With such an agreement, you – or your 3PL provider – load your pallets into a trailer. When the driver arrives at the warehouse, he or she can simply sign the bill of lading, grab the pre-loaded trailer (often while exchanging it for another), and be on his or her way.

This is much more advantageous for the LTL provider than having its driver wait 2-3 hours to be loaded. The easier you make things for the carrier, the more they'll prioritize your freight.
Turn to Weber Logistics for West Region and National LTL shipping
If you're looking to ship your products with an LTL company in the Western US, look no further than Weber Logistics. Weber provides drop-trailer agreements and standing delivery appointments with major retail DCs in the Western Region. Weber-owned trucks are at the ready to provide capacity for your dry and refrigerated LTL operations. Weber can also support your national LTL needs through its nationwide carrier partner network. To learn more about Weber's LTL services, contact us today.