The Ports of Los Angeles and Long Beach are the busiest ports in the U.S., handling over $450 billion worth of goods each year. This kind of volume leads to congestion that can really slow down your supply chain, and your cash cycle. If you are importing into LA or Long Beach, here are 5 tips that can save you time, money, and quite a few headaches.
1. Understand the Differences in Terminals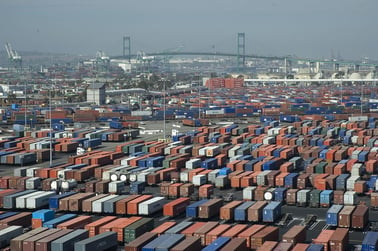 When you import through the LA port complex, you're shipping to one of 13 terminals – each of which may have drastically different timeframes for a carrier to get in and out. The TTI terminal, for example, currently averages 122 minutes in-and-out at night, and 108 minutes during the day. The APL terminal, on the other hand, averages 49 minutes in-and-out at night and 43 minutes during the day.
This information comes from GeoStamp, and the ports have agreed to accept this data as an objective measure of turn time. The key is to understand the wait times associated with each terminal and then choose a carrier that uses a more efficient terminal.
Picking a carrier that uses your desired terminal is sometimes easier said than done, however, due to recent steamship alliances.
2. Navigate Steamship Alliances
It used to be that shipping lines only used their own specific terminals. The new steamship alliances have changed this and now enable carriers to use a variety of terminals – either their own or that of an alliance partner. More often than not, to maximize profit, carriers will use the terminal with the cheapest docking fees. It stands to reason that, if carriers gravitate to the cheapest terminal option, then there will be more congestion and delays at that terminal.
What can you do? You can directly ask your carrier which terminal it will be using and make your shipping decisions accordingly. Surprisingly, many companies do not do this. You can also partner with a third party logistics provider (3PL) or dray carrier to navigate this for you – whether that entails handling the entire operation or just helping you set it up.
The bottom line is: know where your carrier is taking your goods and factor that into your carrier decision. If delays at the port really damage your business, choose carriers that use terminals with faster turn times.
3.

Secure your chassis in advance
Around 85% of the chassis at the LA port complex are provided through three primary chassis pools. When picking up freight, your carrier rents a chassis then picks up the container. The problem with chassis pools is that they can run out of equipment during peak seasons. It's not uncommon for a drayage company to get notified by the port that they are "out of chassis…bring your own." So it helps to work with a drayage carrier that can provide its own chassis.
At the Port of New York and New Jersey, plans for a large chassis pool just fell apart because participants could not come to an agreement. The agreements in LA have worked up to now, but you never know. An asset-based dray partner mitigates this risk.
4.

Ensure your DC can handle larger volumes of inbound freight from "big ships"
LA ports – like many ports around the country – are being visited by larger and larger ships that carry up to 18,000 twenty-foot equivalent container units (TEUs). In addition to needing adequate dray capacity to move the containers, you need a distribution center (DC) that can handle a large and concentrated volume of inbound freight. Many Southern California warehouses were not designed to do this.
Let's say a ship carries 12,000 TEUs. A DC may get 15 of these containers. That's easy to handle with 20 dock doors. But for an 18,000-TEU ship, that same DC may need to receive 30-40 containers at one time. In this case, containers will sit and wait in the yard, delaying your supply chain and subjecting you to detention charges by the ocean carrier for holding on to the container beyond allowed free time.
When choosing a warehouse partner, it's important to understand the company's capacity limitations. 3PLs that use more modern warehouses can easily handle "big ship" volume, but those with smaller, older buildings can significantly delay the timeframe to get products from port to store shelf.
5. Don't Forget Distribution When Selecting an Ocean Carrier
When planning logistics for imports, most shippers focus first on the costs associated with the ocean transportation leg of the equation and neglect to factor in what happens once the freight reaches its destination. But it is this latter part of the distribution equation that determines the success of the entire project: whether your customers get their items in a timely manner.
The fact is that the lowest cost ocean transport will not always result in the lowest total costs when you factor in dray, warehousing and final delivery costs.
3PLs can help you examine your total landed costs. Further, 3PLs based in the LA area will have the relationships, experience and data to understand the entire picture when it comes to ocean carrier selection. By partnering with a 3PL prior to carrier selection, you can gain this insight and select a carrier that gives you the best balance of cost and customer satisfaction.
Importing Into LA Can Be Difficult Without Help
There are a huge number of details associated with moving goods into and out of America's largest port complex. To navigate this complexity, it helps to have a friend in the business.
An LA-based 3PL provider understands that the clock keeps ticking, and the costs keep accumulating, until your goods reach your customers. Importing into LA can be a relatively quick and smooth process, or a very inefficient and costly one. A knowledgeable 3PL can tip the balance in your favor – acting as the perfect ally in navigating the intricacies of the Port, from planning to final delivery.