Transloading is by no means a new method of product distribution, but the rationale for implementing it has changed over the years. In the past, transload operations were primarily a cost-savings play as the contents of multiple 20-foot and 40-foot ocean containers can fit into relatively fewer 53-foot domestic trailers. This results in fewer trips and therefore lower costs. With the "Amazon-ization" of the supply chain, however, transloading – and its ally, deconsolidation – continues to thrive as a go-to strategy for a different reason: speeding order-to-delivery time.
3PL Transloading and Deconsolidation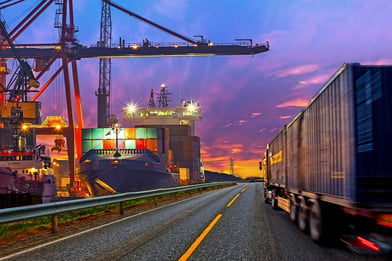 When you partner with a third-party logistics (3PL) provider that operates at or near a port of entry, you have multiple options for your ocean freight. Your 3PL can receive your container(s), warehouse your products, and return the container back to the ocean carrier. However, you can also skip the local warehouse and get right to the business of product distribution with transloading and deconsolidation.
With transloading, your 3PL will receive your ocean container, process its contents, load your products onto a container or OTR trailer, and ship to a destination within last-mile-delivery range of your customer(s). Your product is now staged for fast delivery to the end customer, whether it's a consumer or a retailer. Transloading is an increasingly popular method of product distribution – growing at twice the rate of imports (4% vs 1.9%) between 2007 and 2016, according to the Intermodal Association of North America.
The ability of transloading to reduce order-to-delivery cycle time is now every bit as important as the cost savings. Your eCommerce customers must contend with the 2-day-or-less expectations created by Amazon, so your products need to be within delivery range of your customers' customers as quickly as possible. Meanwhile, your retail customers want to keep little-to-no surplus inventory on-hand while simultaneously avoiding stockouts at all costs. It is not possible to meet these needs if your product is sitting in a warehouse near the port.
Sometimes there's not one location that can serve your customers' needs in a timely fashion – there are several. Enter deconsolidation. With this method, your 3PL receives your container and inspects and processes your product just as it does with transloading. The difference is that, with deconsolidation, your products will be segregated (by purchase order or SKU) and then loaded on to multiple truck trailers and/or intermodal containers for distribution to multiple locations simultaneously. This is an effective strategy when the end customers are dispersed across a wider geographic area.
Choosing the Right 3PL to Speed Product Distribution
There are many 3PLs that can handle these and many other port services to help you get your products closer to your customers quickly and efficiently. Questions to ask in choosing the right one include:
Integrated Services: Can the 3PL handle all required services (e.g., drayage, rail transload, processing/inspection/segregation, and transportation) or must it coordinate with other providers? Aside from potentially adding time to the order-to-delivery process, more providers can create more opportunities for communication and coordination errors.
Experience: Does the 3PL have proven transload and deconsolidation experience with the reputation and references to back it up? What is its vendor compliance track record with retailers? Does it have effective quality control measures in place?
Location: Is the 3PL located near the port and able to perform transloading and deconsolidation quickly? Can it return containers quickly to avoid costly fees?
Visibility: Will the 3PL's systems provide you with tracking and 24/7 visibility into your freight – allowing you to make real-time decisions as needed?
Facility: Does the 3PL have rail siding? Does it have enough yard and door space to handle your peak volumes?
Transloading and deconsolidation are effective methods of speeding up your supply chain, but they require precision and careful attention to operate not only quickly, but accurately and efficiently as well. You need to make sure your 3PL will offer you that attention and the necessary service levels when you need them. To learn more about a 3PL with big-company capabilities and small-company individualized service, contact Weber Logistics today.