Record-breaking shipping volumes into the Ports of Los Angeles and Long Beach continue into Q2 and show no sign of letting up. This has contributed to container shortages and extremely high container shipping rates. In this article, we'll explore a tactic to help mitigate some of the headaches associated with the current importing landscape: shipping overweight containers.
A record-breaking Q1 at the Port of Long Beach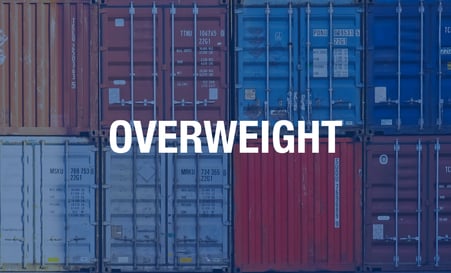 According to a new American Shipper article, container volumes into the Port of Long Beach during March and all of Q1 set a slew of new records, including the following.
The Port handled 840,387 TEUs in March, breaking the previous record set in December 2020 of 815,885 TEUs. It is only the third time in over 100 years that the Port has processed over 800,000 TEUs.
During the Port's Q1 – now the best Q1 on record – 41.2% more TEUs moved through the Port (2.38 million TEUs) than Q1 2020.
*March and Q1 information not yet available for the Port of Los Angeles
Rising container shipping rates
With such record-setting volumes of containers crossing back and forth over the Pacific, you might think that containers would be relatively easy to come by. You'd be wrong.
A recent CNBC article shows that the unprecedented pace of China shipping activity after the initial COVID-related slowdown in March 2020 has made empty containers a scarce commodity – with "three containers going out for every container that's coming in." This scarcity has caused the spot-rate market for container shipping to balloon. At the start of 2021, container spot rates from Asia to the U.S. West Coast were 145% higher than they were a year ago. Where companies might have paid around $2,000 per container before shipping resumed from China and Asia after the slowdown, they are now paying $7,000 or $8,000 per container.
Overweight freight can mitigate high container shipping rates
One of the key ways that you can offset higher container shipping rates is to ship your freight in fewer containers by loading each container to its max load weight. In our experience, the overall throughput cost for import transportation is typically reduced by 15-20% when shipping overweight. During times of record-setting shipping volumes and sky-high spot rates, your savings could even be greater.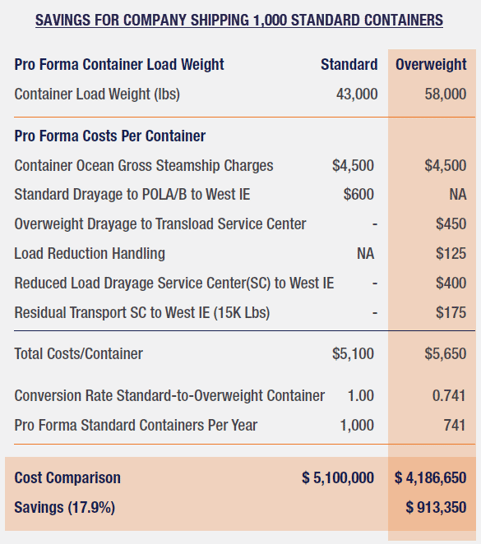 The basic premise of shipping overweight containers works like this: if you can fit the contents of four standard-weight containers into three overweight containers, there are savings to be had.
Importantly, while you will have additional costs for drayage, transloading and final delivery of the split load, these costs are significantly lower than the cost savings you enjoy by shipping fewer containers over the ocean. The inset graph shows the savings (17.9%) that a company shipping 1,000 standard containers can enjoy by shipping overweight containers during a relatively normal shipping season.
Products that are ideal candidates for overweight shipping include construction materials, lumber, liquids, heavy metals, and commodities like sugar, flower and grains.
Turn to Weber Logistics to combat rising container shipping rates
If you're shipping your products into the Ports of L.A. or Long Beach via overweight containers, Weber Logistics can handle the overweight logistics on your behalf. Our specialized 4-axle tractors can pick up your containers from the Ports and then transport them to our warehouse within the overweight corridor. From here, your products can be transloaded and prepared for final delivery. To learn more about our overweight container services as well as the 3PL additional services we provide, contact Weber Logistics today.