Southern California 3PL Services – Warehousing and Trucking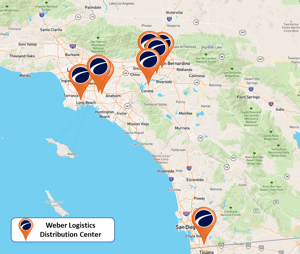 Weber Logistics operates distribution warehouses throughout Southern California, including LA County, Inland Empire and San Diego warehouse locations. We have the largest concentration of logistics facilities of any Southern California 3PL. Distribution services also include trucking throughout California and the 7-state western region, with next day service to California, Arizona and Nevada.
Logistics Services in Southern California
Port services for LA imports. Fast, reliable Southern California drayage services from the Ports of Long Beach and Los Angeles. Weber can deliver direct to the consignee or to a Weber warehouse in Southern California for transloading or deconsolidation. Drayage trucking services are done with a 100% clean, compliant truck fleet.
California 3PL warehousing. A large percentage of Weber's warehousing space is concentrated in Southern California. This gives you the flexibility to store goods in the location that makes the most sense for you – in LA County close to your customers, in the popular Inland Empire region east of LA, or closer to Mexico at our San Diego warehouse.
Weber combines all services for an integrated solution for 3PL logistics in Southern California. Advanced systems tie it together and provide you full visibility to your inventory, at rest and in motion.
For facility details, see Los Angeles warehousing or Inland Empire warehousing.
Looking for Southern California Warehousing and Trucking Services?
Whether it's warehousing, trucking or port-related services,
contact us
today to discuss your logistics requirements.