Dedicated Contract Carriers for West Coast Transportation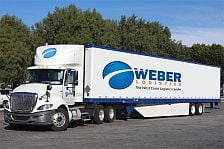 Weber's dedicated contract carrier service gives you the reliability of a dedicated fleet without the assets, labor management, and compliance issues. Unlike many other contract carriers in California, Weber uses dedicated customer service representatives who are based in Southern California, with an intimate knowledge of the market.
For a maker of dietary supplements, Weber runs a busy, 24/7 shuttle service between production and warehouse facilities using a dedicated fleet of Weber tractors and temperature-controlled trailers.
Advantages of Weber's Dedicated Contract Carrier Services
Increase flexibility. Request a driver and equipment with short notice.
Increase reliability. Outstanding record of on-time performance.
Lower your carbon footprint. We are an EPA Smartway partner with newer, fuel-efficient trucks.
Redirect resources. Let Weber handle all fleet-related compliance issues.
Lock in capacity for multiple years.
Avoid systems investments.
Looking for contract carriers in California?
Let Weber's contract carrier service improve your delivery service levels, while allowing you to redirect capital into investments to support your core business. Contact us today to discuss your needs.