For consumer-packaged goods (CPG) companies, efficiency is the name of the game. Your online customers expect faster delivery, while your retailer KPIs continue to multiply and grow in importance. Understandably, many CPG companies struggle to keep up with these increasing demands. In this article, we'll examine where many companies are falling short, and show you how third-party logistics providers (3PLs) can be invaluable allies in overcoming CPG supply chain inefficiencies.
5 key CPG supply chain inefficiencies – and how 3PLs can help
The following inefficiencies are common drivers of high costs as well as barriers that prevent CPG companies from meeting customer expectations.
Inefficiency #1: Inability to flex warehouse space. When it comes to warehouse space, you don't want to build or rent to accommodate your highest volumes. Likewise, you don't want to be caught short of space when demand surges.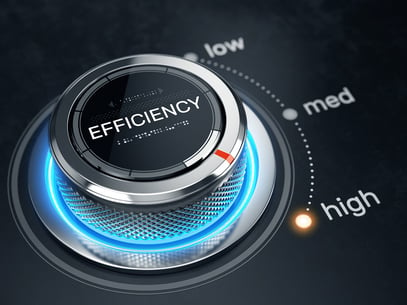 How a 3PL can boost efficiency: Most 3PLs provide shared warehousing (or "public warehousing"). With this model, you can share warehousing space alongside other companies while paying only for the space and resources used month to month. The costs of the entire warehouse are thus split proportionately among you and the 3PL's other customers based on square footage and resources used.
When more space is needed, your footprint can expand within the warehouse if expansion space is available. When less space is required, that footprint can simply shrink. The bottom line is that you are only paying for what you use, allowing your logistics costs to parallel your revenue stream.
Inefficiency #2: Inability to flex warehouse labor. Product demand is variable at many CPG companies. Some will have seasonal spikes; others will see spikes around planned promotions. Efficiently planning labor to handle fluctuating demand is no easy task. The strategic use of temporary labor can help, but this comes with its own set of challenges, including training, maintaining quality, and balancing the mix of temporary and full-time associates.
How a 3PL can boost efficiency: 3PLs with multi-client warehouses will likely have many customers under one roof and a labor force to accommodate each client's needs. But busy periods for some clients often correspond to slower demand periods for others. That's why 3PLs will "cross-train" associates in the SOPs for several clients. When the need arises, associates move where the work is, avoiding or minimizing the need to hire temporary staff.
But there are certainly times when temporary labor is needed and advisable to handle demand. Again, this is an area where outsourcing to a 3PL can provide great value. Efficient labor management is at the heart of a 3PL's value proposition, so they cultivate strong, strategic relationships with employment agencies and develop thorough training programs. Many temporary associates are "regulars" at the facility and get to know client SOPs as well as full-time staff. In fact, one of the best recruitment strategies is to identify motivated, high-performing temporary associates and bring them on as FTEs.
Inefficiency #3: Inability to meet vendor compliance requirements. Every retailer has its own vendor compliance guidelines, complete with KPI requirements and routing guides that are regularly updated. Failure to comply with retailer demands could result in chargebacks and ultimately prove damaging to the retailer-CPG-provider relationship.
The problem is that it takes time and resources to ensure compliance. For CPG supply chains that include several retailers, the effort can be overwhelming.
How a 3PL can boost efficiency: Most 3PLs already have relationships with major retailers and are familiar with their requirements for labeling, EDI and other routing guide mandates.
Some 3PLs, like Weber Logistics, have an internal compliance team that is solely dedicated to meeting retailer requirements and keeping abreast of routing guide changes. These 3PLs can provide information to help you fight chargebacks. And, as with warehousing space and labor, the 3PL's costs for their compliance team's efforts are shared across all customers – saving you substantial costs vs hiring your own compliance team.
Inefficiency #4: Absorbing the cost of an entire WMS. Since we're talking about splitting costs, one cost that is helpful to share is that of a warehouse management system (WMS). These sophisticated platforms act as the central hub for all warehousing and inventory management operations and will require a significant investment if you manage your own warehouse operations.
How a 3PL can boost efficiency: 3PLs have already made their investments in WMS platforms, so there's no need to invest in your own. When you partner with a 3PL, you enjoy all the benefits of its full-featured WMS, while splitting systems and management costs between you and other warehouse tenants.
Inefficiency #5: Using multiple transportation partners. When it comes to transportation of CPG products, costs increase every time those products are touched by a different provider. Companies that outsource separately for drayage, LTL or truckload, and final-mile services incur greater costs than they would if they worked with a single provider that handles all modes. There are also costs and headaches associated with integrating your systems with several different providers.
How a 3PL can boost efficiency: There are many 3PLs that can perform all modes of OTR transportation, including drayage, LTL, full truckload, last mile, pool distribution, freight consolidation, and dedicated services. Such 3PL can act as a single-source provider, enabling you to:
pay one low rate from one provider instead of haggling over prices from multiple vendors
improve service levels through tight coordination with a single partner
integrate systems with one transportation provider instead of several in order to streamline transportation operations
Going a step further, some of these 3PLs are asset-based and can assign equipment specifically to your operation – guaranteeing you capacity when you need it. Many 3PLs also have standing appointments with major retailers, opening the possibility for cost-cutting consolidation of retail deliveries with other companies shipping to the same retail DC.
The success of CPG-retailer partnerships depends largely on a supplier's logistics capabilities. If your operation is falling short in this area or could use some fine tuning, a call to a 3PL provider like Weber Logistics could be a step in the right direction. To learn more about how Weber can supercharge your CPG supply chain, contact us today.