Just as Hollywood blockbuster films get more notoriety than independent films, the ports of Los Angeles and Long Beach tend to get all the attention when it comes to the movement of inbound container freight to the West Coast. After all, these ports are the busiest in the U.S. and have set new volume records yet again in 2017.
As with a well-crafted indie film, however, the Port of Oakland should not be overlooked. It set records of its own in 2017, is increasingly relied upon as a port of entry for U.S. importers, and is a cornerstone of logistics in California.
Port of Oakland Advantages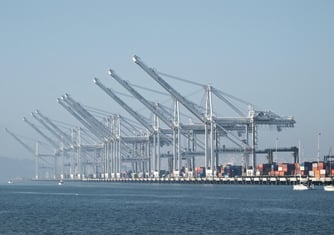 The 1,300-acre Port of Oakland's is home to three container terminals and two intermodal rail terminals from which it serves 50% of the U.S. population by rail. Last year – the Port's 90th – was the busiest in its history. For containers, it handled 2.42 million TEUs in 2017, breaking the record of 2.39 million set in 2014. It was the 10th-busiest port in the U.S. last year in terms of import volume.
While things are certainly looking up for the Port of Oakland as whole, here are some supply-chain-specific reasons to consider it for your imports.
Reduced transit times.
Many companies look to the Port to speed supply chain cycle time. Simply put, you can reach more of the West Coast in a shorter period than you can from other major West Coast ports like Los Angeles and Long Beach. In fact, there are 34 million consumers within a 7-hour drive of the port. When you ship to the port of Oakland, your products can get down to L.A. or up to the Pacific Northwest within a single day, whereas a shipment between those two areas would take two days.
Improved visibility.
Similar to the Port of Los Angeles, the Port of Oakland is developing a digital platform that would allow ocean carriers, importers, terminal operators, truckers, railroads and other supply chain stakeholders to share incoming shipment information up to two weeks before a ship's arrival. With all parties on the same page and accessing the same information, shipments will enter the distribution cycle faster and log jams will be avoided.
The Port of Oakland has also announced another platform that it hopes to release mid-way through 2018. This platform will allow for tracking and shipment updates, fee payments, and truck appointment scheduling.
Quicker truck turn times.
Even though it continues to break volume records, the Port is not seeing an uptick in congestion and driver wait times. Why? The Port of Oakland adapted to the increased hustle and bustle by extending night hours at the Oakland International Container Terminal (OICT). The result? Nighttime transactions rose by 800 per day, reducing congestion and local traffic while also reducing driver wait times to an average of 60-to-90 minutes.
Access to Central Valley logistics.
The Bay Area is expensive and it's not getting any cheaper. Because of this, many companies are looking to the Central Valley for warehousing and distribution options. Located within 50 miles of the Port, the Central Valley is home to an abundant workforce and real estate costs that are much lower than the Bay Area. Many third-party logistics (3PL) companies operate in the Valley and can service your containers at the port while helping you establish a lower-cost distribution foothold just outside the Bay Area.
Turn to Weber for Port of Oakland logistics
With two Central Valley warehouses in Stockton, CA as well as a Union City location in Alameda County, Weber Logistics provides an integrated logistics solution for your California Freight. Combining port services, warehousing and transportation – with owned assets and refrigerated services – Weber can get your loads off port and out to market quickly and efficiently.
To learn more about Weber's integrated solution, contact us today.