(Mimi Ma is Director of Quality and Compliance at Weber Logistics)
The image below can be seen on virtually every product that you buy in a store.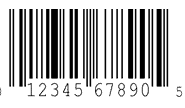 What are these barcodes? What do they do? What role do they serve in the fulfillment warehouse? How are they different from other retail related barcodes?
These barcodes are commonly known as UPCs (Universal Product Codes). UPC barcodes, along with EAN barcodes (European Article Number), help track trade items at the point of sale (POS). They are governed by the GS1 organization, which develops global standards for visibility throughout the supply chain. Once a company has an established GS1 company prefix, they can begin assigning identification numbers to their products. UPC barcodes are 12-digits long with the preceding numbers representing a company's GS1 prefix or manufacturer code. EAN barcodes are 13-digits.
Another common barcode type seen in the retail environment is referred to as I2of5 (interleaved 2 of 5).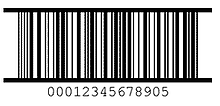 They are 14-digits long and are used to encode pairs of numbers into a self-checking barcode format. They cannot be used to identify items crossing point of sale. They can be marked on the outside of a master carton, containing multiple eaches of UPC items within the case. In the retail world where vendor compliance is critical, some retailers (such as Sears and Kmart) require vendors to incorporate the I2of5 barcode as part of the GS1-128 (UCC/EAN-128) shipment label.
When vendors ship their products to retailers, these products need to be tracked throughout the supply chain. At the shipment pack level, these products are identified and labeled with a GS1-128 (UCC/EAN-128). These labels are typically generated at the fulfillment warehouse and applied at a master case or pallet level. They contain an 18-digit serial shipping container code (SSCC-18) that is unique and used to identify the logistic units within that packaging unit.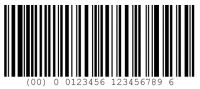 The SSCC-18 barcode, along with other key data elements on the shipping label, is called the GS1-128 (UCC/EAN-128) label. 4"x6" is the most common label size of a GS1-128 label and, depending on the retailer's label specifications, they can look similar in format from retailer to retailer.
Retailers then use the GS1-128 labels in conjunction with an electronic advance shipment notice (ASN). Once the vendor's product arrives at the retailer's DC, the barcodes are scanned and linked to the ASN to allow products to be received at the fulfillment warehouse quicker. Accurate generation of barcodes and labels are critical in the order fulfillment process, when shipping to retailers. Understanding and complying with the various barcode and label specifications will help with vendor compliance and reduce retail penalties and chargebacks.
For more information regarding GS1 barcoding or how to obtain a GS1 company prefix, you can visit http://www.gs1.org/.