C-TPAT is a voluntary government-business initiative designed to guard against illegal smuggling of dangerous cargo by terrorists.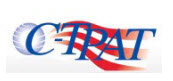 In the post 9-11 era, stepped-up inspections delay processing of imports from 1 to 2 weeks, slowing the importer's supply chain and cash cycle. Importers that want to avoid these Customs delays and support efforts to secure the country's borders are seeking certification under the C-TPAT program – the Customs-Trade Partnership Against Terrorism.
Weber has published a paper to help you understand the benefits to shippers of the C-TPAT program. Download the paper: C-TPAT Membership: Is it Right for You?
Following is a quick summary of these benefits.
Secure the country's borders. Many C-TPAT members cite this as their primary motivation for becoming certified.
Speed your supply chain. C-TPAT shipments are 4-6 times less likely to undergo an examination than non-C-TPAT shipments.
Reduce costs. As an importer, you pay for Customs cargo examinations. C-TPAT program certification means fewer inspections, reducing these costs. Another cost, and one that is harder to quantify, is the cost of delayed shipments to retail customers. A lengthy delay on an out-of-stock product could jeopardize your relationship, even your business, with a retailer.
Gain favor with retailers. Increasingly, retailers are encouraging vendors to become C-TPAT compliant. While C-TPAT compliance is not the reason retailers seek out your products, it can tip the scales in your favor at the tail end of a vendor selection process.
If you are outsourcing any portion of your supply chain to third party logistics providers (3PLs), their security procedures come under just as much scrutiny as your own during C-TPAT evaluations. So, if you are considering the C-TPAT program, it helps to work with 3PLs, like Weber Logistics, that are well-versed in C-TPAT protocols.
Download the Weber Logistics Insight: