As container volumes at West Coast ports continue to increase year after year, it's becoming more difficult to move those containers inland. The problem? Container drayage companies simply don't have enough drivers to meet demand. And, when you are fortunate enough to secure dray capacity, you can expect to pay 10 to 15% more than you were just a few years ago.
The Shortage of Drayage Drivers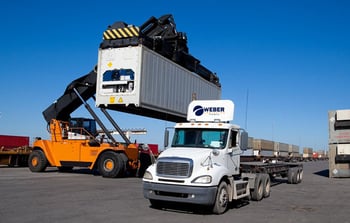 The impact of the driver shortage is being felt from coast to coast in every area of the supply chain. There are myriad reasons for the shortage, but the biggest one comes down to simple math: there simply aren't enough truck drivers to meet transportation demands in the U.S.
Drayage has been especially hard hit. And, on the surface, it may be hard to understand why. After all, just about every article on the driver shortage will tell you that drivers want to be paid better and have a job where they return home at night. Drayage meets both requirements. Weber Logistics drayage drivers, for instance, can make over $80,000 per year with overtime.
Now, it could be that container drayage companies aren't doing a great job of promoting themselves to the available driver pool. Or, it could be that drivers know exactly what drayage trucking entails and want no part of it.
Drayage is a difficult and often very stressful job for drivers. For starters, they spend a large chunk of their day waiting. The West Coast ports have made great strides in decreasing driver wait times, but it still takes an average of 85 minutes to get into or out of the major ports. And, once a driver is finally on the move, there's the traffic and congestion to contend with near the port and the surrounding metropolitan area. The time in transit generally consists of an endless cycle of brake-clutch-gas, brake-clutch-gas.
Because of these factors, many drivers steer clear of drayage work, or leave drayage for the (relatively) reduced stress of long-haul driving on the nation's highways.
Finding container drayage companies with reliable capacity
So, that's the landscape we find ourselves in. Not enough drivers and substantial costs if and when you do find one. If you're an importer, it's not the rosiest picture.
But, it's not hopeless. By following these tips, you can separate reliable container drayage companies from the not-so-reliable ones and find capacity for your supply chain operation.
Find drayage companies that have business in your area to reduce costs. By finding a drayage carrier that regularly goes back and forth to the same area(s) you need your goods transported, you can reduce deadhead miles (or "bobtail miles" in the drayage world) and therefore costs. For instance, if you need your container to go from the Port of Oakland to Stockton, find a drayage carrier that regularly makes that trip. Upon dropping off your container, the carrier can find an empty one to bring back for another nearby customer and you'll avoid the charge of having the truck travel back to the port empty.
Look for a company that employs its own drivers to avoid misclassification of drivers. There is a major ongoing legal battle in California over the classification of owner-operators. To avoid potential lawsuits – as well as your ability to have your freight delivered – it's wise to play it safe and partner with a company that has its own driver force.
Look for a company that owns its own chassis to ensure capacity. Due to the ever-increasing container volumes at the ports, chassis pools can – and routinely do – run out of chassis. Avoid this major blow to your supply chain cycle time by partnering with a company that owns its own.
Consider having one company perform drayage and warehousing to secure dedicated resources. When you use a provider with combined warehousing services and drayage services, you become a contracted, ongoing customer with equipment dedicated to your operation. It also makes your drayage operation a priority for the provider over other companies.
Look for a company with over 10 years of experience dealing with the port for on-the-fly solutions. It should be no surprise that operations at West Coast ports don't always go as planned. Companies (and their drivers) with experience at your chosen port have contacts that can help you navigate issues, from appointments to per-diem and demurrage exceptions.
Look for a company that provides full visibility into your freight. It can be difficult enough to secure the capacity you need. Don't risk the security of your freight by entrusting it to a company that doesn't provide you with visibility of your goods every step of the way.
Lean on Weber Logistics for container drayage solutions
For port services on the West Coast, Weber Logistics can be your go-to provider every step of the way – from drayage to final delivery. We have intimate knowledge of operations at the ports of Los Angeles, Long Beach, Oakland, and San Diego, and can integrate your port services with our warehousing and transportation capabilities to provide you with one seamless West Coast supply chain partner. To learn more about our services, contact us today.